Cindi Bigelow Travels To Sri Lanka Journal: Winding Down
Friday, 15 February 2013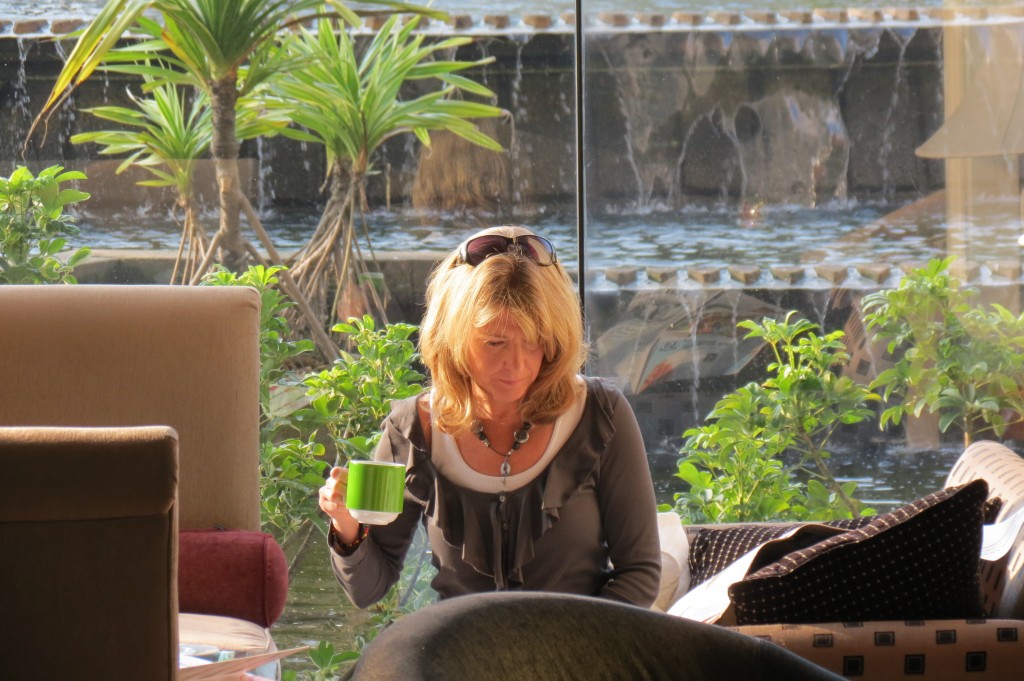 Back to the Hilton hotel (where we had stayed when we first arrived in Colombo) for another quick stay. We said our goodbyes to Ishanka. My only regret is that I didn't know his language so we could have communicated more. I had so many questions I wanted to ask him and really wasn't able to.  I think he knew how much we appreciated what he had done for us and how we enjoyed our time together. Maybe someone will translate this and read it to him. Thank you Ishanka for taking such good care of us.
At the hotel we were met by our new friend, Anuradha; he was what is called a journey ambassador.  He had greeted us the first night and had taken amazing care of us from that first meeting forward.
We told him we had only 10 minutes to get ready for our next meeting and he quickly shepherded us to our own rooms. It really was like greeting an old friend when we saw him!  "Hello" I shouted when we saw his face (in my rather loud American voice). He just smiled and let us know he was happy to see us.
Up to the room and down in no time, ready for our second-to-last  meeting of the trip. This was another longtime partner that we had never met face to face. Idris Shabbir of Adam Expo was there in the lobby with a huge warm smile. The only problem was that at this point I was starting to run on empty. It was after 3 and we needed to be back here at 6 p.m. for one last meeting. Idris was bright, eager and well prepared with a comprehensive agenda. In the car we went, heading to his tea blending facility. Unfortunately the Colombo traffic, which was starting to cause me to have a slight version of PTS, was extremely heavy. What should have taken only 15 minutes took over 45. My brain was racing. How could we see two plants, hold a business meeting, drink teas and be back in two hours when drive time was one hour each way?
Needless to say Idris had to substantially shorten his agenda. I knew he was disappointed but there was nothing we could do;  we were flying out that night and I desperately needed a few hours' sleep.
Bigelow Tea VP John McCraw and I got a lot out of the meeting and a lot of good follow-up points, but I couldn't help but feel bad that we had so shortchanged Idris. Over time he will see that it was not the case. Our understanding of what we saw would benefit him over the long run, but that wasn't going to make me feel better at the moment. (Sorry Idris … please forgive me.)
But as tough as it was to accomplish we were back at the Hilton by 6 p.m. There we were once again greeted by our friend, Anuradha. And once again we had to tell him we had another meeting in 10 minutes!  He just laughed. I am sure he thought "those crazy Americans," and if he did he would have been right.
Up to the room I went to try and freshen up a little when the phone rang. It was our dear partner, Niraj. He was unable to meet us at 6. It was a disappointment that we wouldn't say goodbye in person. This man had taught me more about tea than I had ever imagined, spending countless hours imparting his knowledge of tea and of this beautiful country. I will cherish my time with him forever, and I pray our paths will cross again so I could let him know what he has done for me, my family and the business.
But I took a sigh of relief. It meant that we would have a little more time to relax before departing the hotel at midnight for a 3 a.m. flight out to Dubai. Now it was time to rest and process. Now it was time to reflect. Now it was time to be alone.
Cindi Bigelow