Bigelow Tea's Green Tea Personali-Tea Basket Makes a Great Gift
Wednesday, 6 March 2013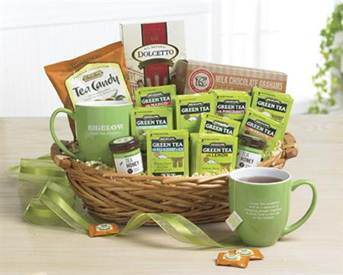 March is a great month for enjoying all things green! Spring will have its official start date this month, and many people of Irish descent—honorary ones too!—will proudly celebrate on St. Patrick's Day. And at Bigelow Tea, we've gone green in a special way … by creating our Green Tea Personali-Tea Basket. Not only for tea drinkers, this basket is the perfect gift for anyone who enjoys life to the fullest!
The lovely willow basket is packed with 72 tea bags of our Bigelow Green Tea varieties. It's a great way to try our green teas. Go fruity with lemon, pomegranate, peach and mango flavors. Savor our pairing of Green Tea With Wild Blueberry and Acai. Get a hint of mint from with Green Tea with Mint. Or just sip Bigelow's Green Tea in its original form!
Along with tea, other treats make this basket even sweeter to give, or get. We've included two jars of Savannah Bee Tea Honey and a package of tea candy. Plus, we couldn't resist adding in chocolate covered graham crackers and chocolate wafer rolls. And yes, we know mugs will be needed. So, of course, we've thrown in a pair of green Bigelow Tea Personaili-Tea Mugs that just happen to be microwave and dishwasher safe! What's not to love?!
Our Green Tea Personali-Tea Basket brings a breath of spring to gift giving. Going "green" can taste and feel so good!