Bigelow Tea's Connecticut Green Team
Wednesday, 6 March 2013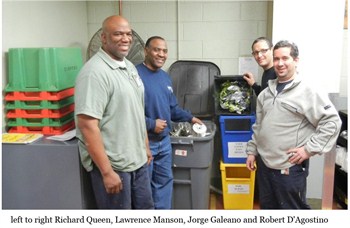 To become the model for the rest of our company, the Production Green Team has been working diligently towards refining and improving our production and warehouse recycling efforts.  Our goal is to reduce and then eliminate waste from our production of tea here in our Fairfield Plant.  This does not come without some big hurdles.  We have paper, foil, corrugated, plastics, plastic bags both clear and colored, card stock, cans and bottles, glass, fluorescent bulbs, batteries, electronic items, metal, nylon, and my least favorite disposable material of all STYROFOAM.  Hate it… this is probably the single most useless product in America.
It is amazing how detailed recycling and composting can be.  The sizes and colors of bins, the location of these bins and of course the removal of the said waste products, as they are recovered from our manufacturing process.  We are fast finding out, that like in real estate and business location is everything.  Location determines how much more efficiently we can recover our waste and still keep our fellow employees close to their work stations.  This way they can continue doing the jobs efficiently, so the company can keep up with and exceed our tea bag per minute standard.  After all making tea bags is what we do and someone has to operate and maintain the machinery, to reach 1 plus billion bags of tea per year.
Educating our co-workers is another one of our other challenges, even our temporary employees are educated on what goes where.  Here at Bigelow we are always looking for alternatives to "throwing out the trash".  With this being said the rules for disposal are forever changing what was trash today is recycled tomorrow and that then might become compostable next week.  For instance in our cafeteria we went from products that would be thrown out, to recyclable and now all of our cafeteria utensils and serving ware are compostable.  The company has used physical samples, posters, videos, emails and the "recycling police" (a group of employees telling people what goes where during lunch breaks).  With more training to come so we may become more proficient, thus making our company and employees more environmentally aware both here at work and at home.
Look for our greening efforts to take place in the near future throughout the Fairfield facility.  We should really be able to increase our environmentally friendly waste and continue to reduce our "bad" trash in the upcoming months with the help of all our fellow employees.