Bigelow Tea's Spicy Pineapple Pork, A Classic Recipe Featuring Our Classic "Constant Comment"®
Wednesday, 17 April 2013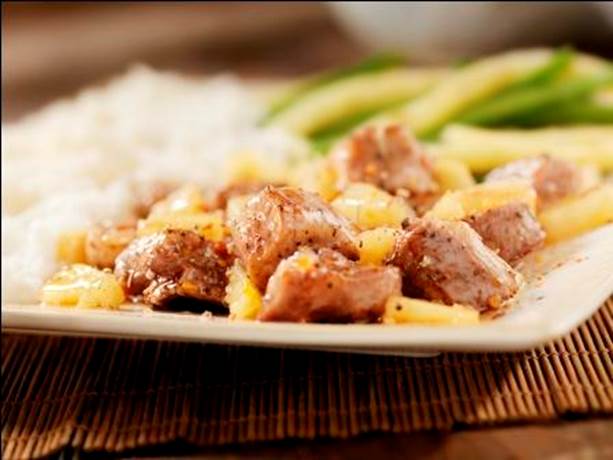 Bigelow Tea has got you covered for dinner tonight! It's tangy, delicious and features our renowned "Constant Comment" tea! Bigelow Tea recipes are all about a taste fusion, plus ease of preparation … and our scintillating Spicy Pineapple Pork is a perfect example! We're not sure if it's the tangy pineapple, the succulent pork or the spicy jalapeno that has us smacking our lips, but we know that they're all tied together brilliantly with our "Constant Comment" sauce reduction. Your family will be praising dinner tonight!
So if you've got 25 minutes and want to prepare a flavorful meal that "wows" the whole family, this recipe is just the ticket. Enjoy!
Ingredients:
4 tablespoons (60m) butter, divided
2 – 1 pound (1kg) pork tenderloins, cut into 8 medallions each
Salt (to sprinkle over pork medallions)
8 Bigelow Constant Comment® Tea Bags – allow to steep for 10 minutes
¾ (180mL) hot water
1 medium red bell pepper
1 cup (250mL) pineapple chunks, drained, reserve juice
2 tablespoons (30mL) fresh ginger root, peeled and chopped
1/2 fresh jalapeno pepper, finely chopped
Dash of cinnamon
1 tablespoon (15mL) fresh cilantro, chopped (optional)
Yield: Serves: 6 – Prep time: 10 minutes – Cook time: 25 minutes.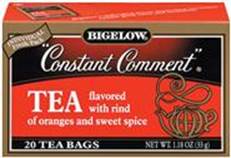 Instructions:
Heat 1 tablespoon (15mL) butter in large skillet over medium high heat. Sprinkle pork medallions with salt. Add pork medallions to pan and cook 5-6 minutes per side or until pork is slightly pink. Place pork on serving plate and keep warm.
Brew Bigelow Constant Comment® tea in hot water; allow to steep for 10 minutes. Discard the tea bags, squeezing to extract as much liquid as possible.
Melt remaining butter in same skillet, add red bell peppers and cook about 3 minutes or until crisp tender. Reduce heat to low, add pineapple, reserved juice, Constant Comment® Tea, ginger root, jalapeno pepper and cinnamon. Simmer until liquid is reduced to half.
To serve, spoon pineapple mixture over cooked pork pieces, sprinkle with cilantro, if desired.