Bigelow Tea Honors All Dads on Father's Day
Wednesday, 12 June 2013
This Sunday is the 3rd Sunday of June, and that means it's Father's Day! We at Bigelow Tea would like to thank all the fathers out there who take the time to be an inspiration, a role-model, and a supporter of all that their kids do. On this special day, there are sure to be golf matches, baseball games, barbeques, and family gatherings. But if you're wondering what Dad would really love on Father's Day, we have the answer: dads just want a little time with their children. Yes, a great day of relaxation and kid-time with nothing else to get in the way—that's the best gift of all.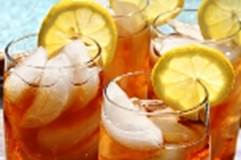 And, to make a beautiful afternoon in June even more relaxing, offer your father a tall glass of iced tea! Caring kids (with Mom's help) can make iced tea for Dad. In fact, they can even try to figure out what flavor—or flavor combinations!—their dad might like best! Maybe he's a Half and Half Iced Tea and Lemonade kind of guy. Or perhaps he'd like to try a mix of our Pomegranate Pizzazz Herb Tea and Green Tea with Pomegranate. Whatever his choice, we know he'll appreciate iced tea and time with his family. You might even consider surprising him—even if it's after Father's Day—with our World's Best Dad Tea Chest so he can make tea all year long!
Tea and time … sounds like the perfect combination for Father's Day this year! It will leave Dad wishing that every Sunday could be Father's Day!
Happy Father's Day to all!
Image by Annais via Flickr.com