Bigelow Tea Salutes Flag Day and Our Troops
Friday, 14 June 2013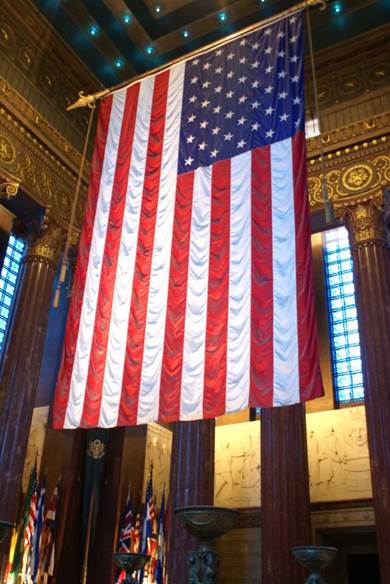 On National Flag Day, June 14, let's pay tribute to our country's symbol of red, white, and blue: our American flag. We at Bigelow Tea decided to brush up on our "flag etiquette" through the United States Flag Code, a how-to list on displaying our Stars and Stripes. Here are some pointers to share:
When raised, the flag should be hoisted briskly and lowered ceremoniously. Don't allow it to touch the floor or ground, nor carry or hold anything in it. It's common to fly the flag from sunrise to sunset, but it can also be flown throughout the night if properly illuminated. And don't fly it in bad weather, unless it's an all-weather flag.
The term "half-staff" means that the flag is lowered to "one-half the distance between the top and bottom of the staff." In this manner, the flag should be first hoisted to the peak for an instant and then lowered to the half-staff position.
Parades have rules too. When the U.S. flag is carried in procession with other flags, our nation's flag should be either on the right of the line of flags, or in front of the center of the line. On floats, the flag should be displayed on a staff. With cars, the flag is attached to the right fender, or chassis, not draped over the vehicle. No laying it on a train or a boat either.
Bigelow Tea also shows its patriotism by sending a special care package to our armed forces. We ship our "Tea for the Troops," to those serving our country. The American Classic Tea is made from tea grown at our Charleston Tea Plantation and put into special red, white and blue packages. It's a wonderful way for our soldiers overseas get a taste of "home."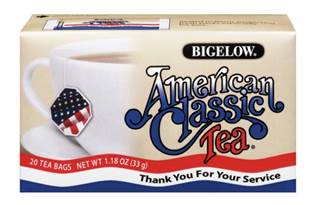 And let's not forget that June is also Iced Tea Month! So, as we celebrate our country's heritage, let's raise a glass of iced tea and salute our flag and those who defend it!
Top image by Valerie Everett via Flickr.com