Don't Wait: Get Bigelow Tea's 2013 Limited Edition First Flush Loose Tea
Wednesday, 3 July 2013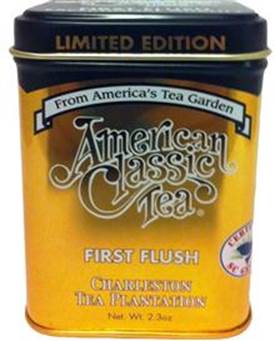 At Bigelow Tea we're feeling flushed and want to share some important and tea-rrific news! Down at our Charleston Tea Plantation, we've harvested the very first tea leaves of the season … and that means our special American Classic First Flush® Loose Tea is now stocked and is ready for sale! This unique black tea comes out only once a growing season, and is made entirely from tea plants grown at our tea garden on South Carolina's Wadmalaw Island.
This "First Flush" tea is produced from the leaves of the tea plants' new growth for the season, which is called their "first flush." The leaves from this early part of the growing season produce a smooth and mellow flavor for a truly pure and fresh cup of fine tea. We're certain that our customers will appreciate this tea with its defined taste and amazing freshness!
As we focus on quality rather than quantity, our selection of First Flush® is quite limited. Can't get to South Carolina? We understand. You can also purchase this tea through our website, and we will ship it right out to you. Each 2.3-ounce canister, which is a lovely shade of ivory, costs $15. We hope you'll give it a try … and we can't wait to hear what you think of this very special tea!