Bigelow Tea Bloggers Visit Charleston Tea Plantation
Tuesday, 9 July 2013
All year long, Bigelow Tea proudly welcomes visitors to our Charleston Tea Plantation, America's largest working tea garden! Recently, it was a special honor for the Bigelow family to sponsor a gathering for a group of Bigelow Tea fans who have highlighted our teas on their blogs. The bloggers were thrilled by the experience and eager to share a "blog's eye view" of the visit for their readers – and you!
The bloggers met with Cindi Bigelow, third-generation CEO, and her parents, David and Eunice Bigelow, Co-Chairmen of Bigelow Tea (fyi David's mother–Ruth Campbell Bigelow—started the company nearly 70 years ago). The bloggers also enjoyed a trolley tour of the 127-acre grounds, a tea tasting, and learned about different types of tea and tea production. One guest, Rebecca Parsons of Cre8tive Compass Magazine, mused before the three-day trip that she looked forward to "many delightful tea moment memories."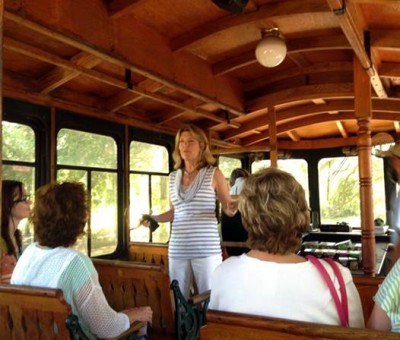 For Rebecca, the trip was all she hoped for: "Green tea leaves shimmer in the midday sun as our trolley rambles along a sandy path on Wadmalaw Island. The sky is bluer than I have ever seen against the straight rows of tea. Cindi Bigelow stands to share her Tea Moment Memories … a tear fills my eye. I am here. I am moved. I am blessed." And Whitney from Rambles of a SAHM called the tea garden visit "the ultimate field trip."
Meanwhile, Kristy, a former Bigelow fan of the month and founder of Mommy Hates Cooking, and Tammy from Three Different Directions, appreciated learning about Bigelow Tea's SustainabiliTEA program. Kristy was also impressed that Bigelow Tea remains a family-owned business that blends and packages all tea varieties right here in the USA! All the bloggers had a chance to sample American Classic Teas, which are grown at the Charleston Tea Plantation.
Bigelow Tea thoroughly enjoyed making tea memories with these bloggers, and looks forward to many more visits from all our tea fans! Come on down anytime!