Service With Smiles In Appalachia
Thursday, 11 July 2013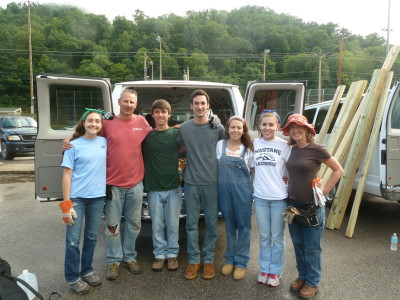 What an amazing week with amazing young adults and fellow advisors…I just got back from Man, West Virginia, where I spent a week helping work on a home that was an ASP project. The Appalachia Service Project has been a wonderful experience for me over the last eight summers.
This year, 220 of us got on buses or loaded into vans to make the drive down. We then split into three different ASP centers in different West Virginia locations. My group of 75 was assigned to Man. From there we break up into teams – two adult advisors and five high school youths. Our assignment was a trailer that had been worked on for the three weeks preceding our arrival. Our week had us finishing up some insulation under the trailer (only a little, thank heavens), installing underpinning around the home, re-siding a side of the home, and straightening out an exterior door that had been installed the week before.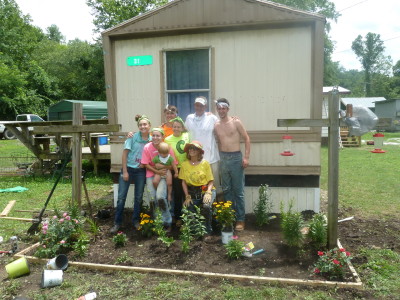 Planted a very special garden
Well I am delighted to say we accomplished our entire mission (something I don't always get to do) plus added a garden at the end of the trailer as a little extra. The family was so appreciative and was out there every chance they could helping us. The young children on my team were just so proud to see what they had accomplished. Two of the girls on my team were there for the first time and were clearly so touched by the process (one said it was the best week of her life). Funny, how can sleeping in a classroom, eating cafeteria food, crawling under a trailer, working in brutally bright sun wearing jeans and heavy boots be the best week of your life? Well, that is the beauty of the week…I can say it actually is one of my best weeks of the year, every year!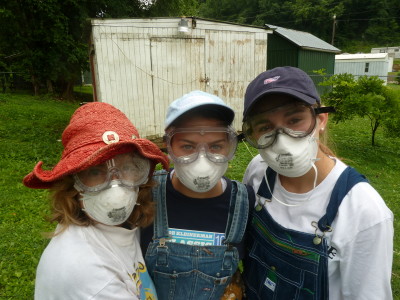 Getting ready to put insulation under the trailer
I think it is the spirit of the people who go down there – from the moment we wake up at 6:45 am till we close our eyes sometime after 11 pm, everyone is so kind and loving. Everyone smiles, laughs and just is so happy to be down there doing this work. Just think about it, we are taking young children from a very fortunate community to one that has many, many issues of poverty and health…and we have one mission, to help make a home a little bit safer, warmer and dryer. Pretty nice in my opinion…everyone just feels so good about what they are doing and that they are even fortunate enough to be able to help others. Yes, it is an amazing week with amazing people. I am of course glad to be home, but I still feel the glow all around me of one of the most loving weeks of the year!
Cindi Bigelow