Bigelow Tea Shares A Special Garden Gift!
Monday, 12 August 2013

Gardens have a way of making the heart sing. Whether found in your own backyard or verdant landscapes in distant places, the alchemy that occurs with seeds, soil and the natural elements is something to behold! Here at Bigelow Tea, gorgeous spring blooms and plants remind us why we appreciate the earth and its many gifts, and why we make land preservation a major part of our sustainabili-TEA efforts. So we are excited to highlight the American Classic Tea Sampler, a lovely gift item from our very favorite garden: The Charleston Tea Plantation!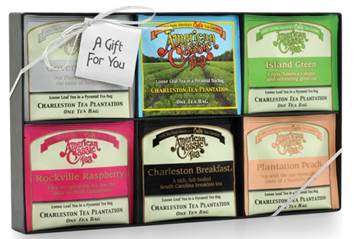 When you give someone one of these samplers, you are giving more than just tea. Along with three packets of each of our six delicious American Classic Tea flavors, the recipient will also get a little bit of Americana. You see, American Classic Tea is grown right here at the largest working tea garden in the United States. Since 2006, more than 200,000 visitors have toured our 127-acre tea garden on South Carolina's Wadmalaw Island. People are drawn, year after year, by the tranquil setting and the opportunity to see the lush camellia sinensis tea plants that thrive in the island climate.
It's hard to believe how close the U.S. came to losing this American treasure to new development. David C. Bigelow, son of founder Ruth C. Bigelow, tells the remarkable story of how the Bigelow family was inspired to purchase the tea garden at auction in 2003 to preserve it for future generations. One of the benefits of the purchase was that production of American Classic Tea resumed after a long hiatus, thrilling tea lovers who remembered the tea's unique flavor and longed to taste it again. Now you can try this homegrown garden gift, too … and share it with others by giving an American Classic Tea Sampler!