Easy, Peachy Bigelow Tea Recipes For Summer
Friday, 16 August 2013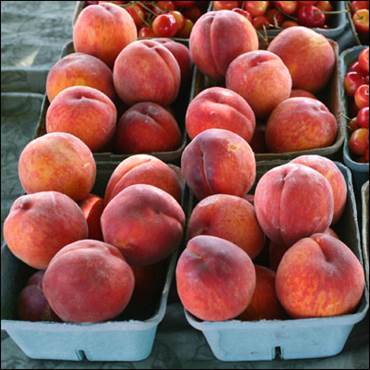 Let's hear it for fuss-free summer cooking! Adding a hint of sweet peach flavor can really perk up your recipe repertoire, and Bigelow Tea makes it easy with peach-infused teas. We're highlighting our Green Tea with Peach, Perfect Peach Herb Tea and American Classic Loose Peach Tea (a delightful black tea grown at Charleston Tea Plantation) in honor of National Peach Month. By the way, these teas make fabulous iced tea! For a simple dinner, try our "peachy" grilled chicken and our luscious frozen granita, both made with Bigelow Tea (recipes below). Meanwhile, celebrate the season with our Berry Peachy Mar-TEA-ni.
Delish!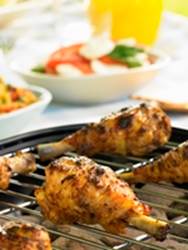 Ingredients:
1 whole chicken – cut up – about 4-5 pounds
¾ cup (180mL) water
6 Bigelow Green Tea with Peach Tea Bags
1/3 cup (80mL) honey
1 teaspoon (5mL) freshly ground pepper
¼ cup (60mL) extra virgin olive oil
Freshly grounded pepper and salt to taste
4 fresh peaches, halved and pitted
Yield: Serves 4 – Prep Time: 10 minutes – Cook Time: 55-65 minutes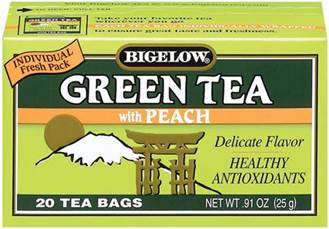 Instructions for Marinade:
In a small saucepan over medium high heat, bring water to the boil and add teabags, reduce heat and simmer for 10 minutes reducing liquid by ¼. Stir in honey and black pepper.
Instructions for Grilling Chicken:
Preheat grill. Rub chicken with the olive oil and sprinkle lightly with salt and pepper. Place chicken on grill, turn to medium low heat (or use "Indirect" cooking according to grill instructions) and brush with Green Tea with Peach marinade. Cover grill and cook chicken for 15 minutes, brush again with marinade, and cook for another 15 minutes, turn over and brush with marinade and continue cooking for another 20 minutes. Check chicken with a meat thermometer which should read 140-150*F. Remove from heat.
Brush peaches with marinade and place cut side down on grill. Grill for 3-4 minutes. Turn, brush with marinade and grill for another 3-4 minutes.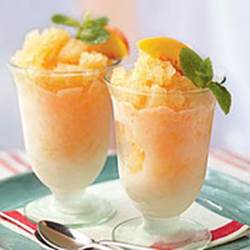 Ingredients:
3 cups (750mL) water
10 Bigelow Peach® Herb Tea Bags*
¼ cup (60mL) sugar
Juice of ½ lemon (optional)
Need ice cream maker
Yield: Makes 1 quart (1L) – Cook time: 2 hrs to chill -Prep time: 5 min.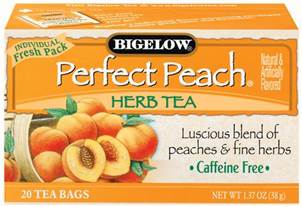 Instructions:
Bring the water to a boil, remove from heat and add tea bags. Allow tea to steep for 5 minutes. Remove the tea bags, squeezing out excess tea. Add sugar, stirring until the sugar completely dissolves. Chill the tea until cold. Add lemon juice if desired.
Freeze in an ice cream maker according to manufacturer's instructions. When finished, the granita will be soft and have the consistency of a sorbet. Transfer to a freezer-safe container and freeze to harden.
To serve scrape the top of the granita with a heavy ice cream spade or scoop. Serve in chilled glasses or hollowed out lemon halves.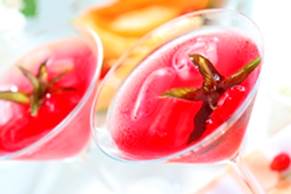 Ingredients:
3 Bigelow® Red Raspberry Herb Tea Bags
3 Bigelow® Perfect Peach Herb Tea Bags
1 ¼ cups boiling water
1 tablespoon sugar
4 ounces vodka
Yield: Serves 4
Instructions:
Place tea bags into a measuring cup and add 1 ¼ cups boiling water. Let brew for 3 minutes. Remove tea bags.  Add sugar and stir until it dissolves.
To chill place tea concentrate in the freezer for 30-45 minutes.
To make a martini, place 2 ounces of the cooled sweet tea and mix it with 1 ounce of the vodka in a cocktail shaker. Shake with ice and strain into a martini glass.
Image by Le Grande Farmers' Market via Flickr.com