Apples Aplenty: Bigelow Tea Bites into First Day of Fall
Friday, 20 September 2013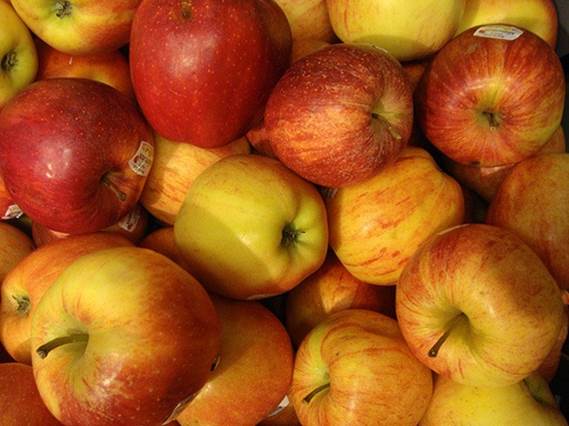 Here's to Autumn! As the first day of the season brings in foliage, cooler weather and harvests, we at Bigelow Tea enjoy biting into another fall favorite: apples. Plus with school now in session, apples have long been touted for teachers. In fact, we've learned that this exchange dates back to when children of farmers would give this fruit to schoolhouse teachers as a token of appreciation. Apples also make a healthy snack, and a wonderful flavor to include in our Apple Cider Herbal Tea.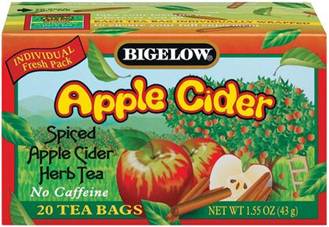 Brew a cup today, on this first day of fall, or further polish off this flavor by enjoying these three delicious recipes!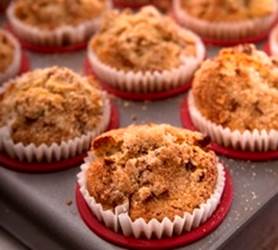 Ingredients:
6 Bigelow Vanilla Caramel Tea Bags
1 cup boiling water
1¾ cups unbleached all-purpose flour
½ cup sugar
3 tsp. baking powder
½ tsp. salt
½ tsp. freshly grated nutmeg
1 cup grated tart apple
½ cup melted butter
1 egg (beaten)
½ cup apple sauce or apple butter
Light or dark brown sugar
Instructions:
Recipe submitted by Heather Kennedy
Bigelow Recipe Contest 2011
Preheat oven to 375˚F.  Grease muffin tin or line with paper cups.
Place 6 Bigelow Vanilla Caramel Tea Bags in a heat proof measuring cup.  Add freshly boiled water to the 1 cup line.  Place a lid or plate on top of the cup to hold in the heat while the tea steeps for 3 minutes.  Remove lid and tea bags – resist urge to squeeze the bags!  Set aside the tea concentrate to cool.
Combine in large bowl flour, sugar, baking powder, salt and nutmeg.  Peel and grate 1 large firm tart apple to make one cup of grated apple.  Add to flour mixture and stir to break up clusters of apple.  Set aside.
Combine melted butter, egg, tea concentrate and apple sauce OR apple butter.  Make a well in the dry ingredients and add wet ingredients.  Stir just until everything is moistened but don't over mix.  Fill muffin cups ¾ full.  Sprinkle each muffin before baking with a pinch of light or dark brown sugar for the "crunch".
Bake for 20-22 minutes.  Remove to rack and allow to cool for a few minutes before removing from pan.
Roast Loin of Pork with Spiced Apple Cider Apples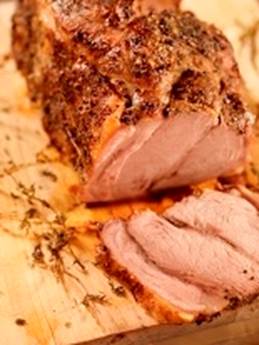 Ingredients:
3 1/2 cups (975mL) boiling water, divided
1 box Bigelow Apple Cider Herb Tea Bags
2 1/2 lb. (1kg) pork loin roast
1 clove garlic, sliced
1/4 cup (50 mL) olive oil
2 bay leaves
Salt and pepper

Apple Garnish:
4 large firm cooking apples, peeled and cut into slices
(example: Fuji, Granny Smith, Cortland)
1 cup (250mL) reserved (from above) Bigelow Apple
Cider tea
2 tablespoons (30mL) brown sugar
Yield: Serves 8 – Prep Time: 25 minutes – Cooking Time: 60 minutes
Instructions:
Boil water and add 20 Bigelow Apple Cider Herb tea bags. Let steep for 5-8 minutes. Remove bags by squeezing well and discard. Make slits in the roast and insert garlic slices.  Combine 2 1/2 cups (625mL) Bigelow Apple Cider Herbal Tea with olive oil, bay leaves and salt and pepper in a large plastic bag, add pork roast and marinate for 8 hours or overnight in refrigerator.
Refrigerate 1 cup (250mL) reserved Bigelow Apple Cider Herbal Tea for Apple Garnish.
When ready to roast pork, preheat over to 350ºF (180ºC). Remove meat from marinade, place meat in roasting pan and put into oven and roast for approximately 60 minutes or until meat is no longer pink inside and thermometer reads 160ºF (71ºC).  Meanwhile, prepare apple garnish by combining reserved 1 cup (250mL) Bigelow Apple Cider Herbal Tea and brown sugar, place in large skillet, add apple slices and cook on medium heat until liquid has reduced and apple is tender and flavored with tea.  Serve slices of pork with apple garnish.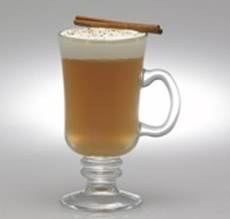 Ingredients:
1 cup (250mL) boiling water
3 Bigelow® Spiced Chai Tea Bags
½ cup (125mL) apple cider
1 teaspoon (5mL) sugar
2 tablespoons (30mL) whipping cream, optional
1 cinnamon stick
Yield: Serves 2 – Prep Time: 8 minutes Cook Time: N/A
Instructions:
Pour boiling water over Bigelow® Spiced Chai tea bags. Let steep 5 minutes. Remove tea bags, squeezing out excess tea.
Add apple cider and tea; heat in microwave or in small saucepan.
When heated, add sugar and top with whipping cream, if desired. Garnish with a cinnamon stick.
Top image by ollesvensson via Flickr.com