Bigelow Tea Celebrates World Vegetarian Day!
Monday, 30 September 2013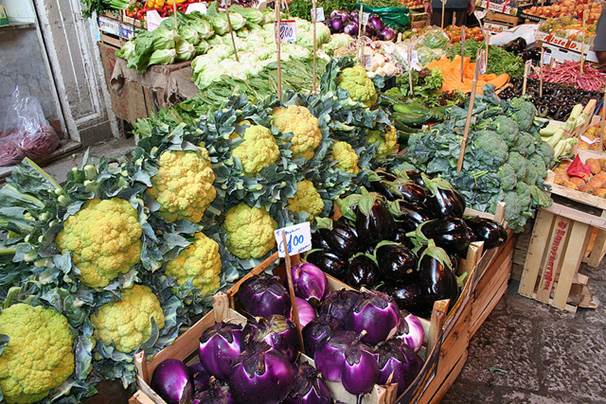 World Vegetarian Day is tomorrow, October 1st, which is also the kick-off of Vegetarian Awareness Month which promotes the benefits of eating vegetarian. Bigelow Tea thinks that World Vegetarian Day is a great way to start a discussion about enjoying a more "veggie lifestyle" as well as being a great opportunity to look at some fantastic Bigelow Tea-inspired vegetarian recipes!  Our recipes always feature our excellent Bigelow Tea selections, and with vegetarian options like our Grilled Vegetarian Mushroom Quesadillas (with I Love Lemon With Vitamin C® Herbal Tea) or our Vietnamese Tea Rolls that feature our Green Tea With Mint, you can't go wrong!
Bon Appétit!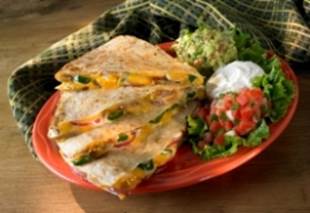 Grilled Vegetarian Mushroom Quesadillas
Ingredients:
¼ cup (60mL) butter
6 Bigelow I Love Lemon & C® Herb Tea Bags
¾ cup (180mL) boiling water
3 teaspoons (10mL) chili powder
2 gloves garlic, minced
1 pound (500g) fresh mushrooms, sliced
1 small onion, minced
1 teaspoon (5mL) salt
1 – 8 ounce (250g) pkg. Tempeh, crumbled
2 cups (500mL) light Monterey Jack Cheese, grated
Canola oil
12 – 6 inch (15cm) flour tortillas
Lemon wedges as a garnish
Yield: Serves 6 – Prep Time: 10 minutes Cook time: 10 minutes.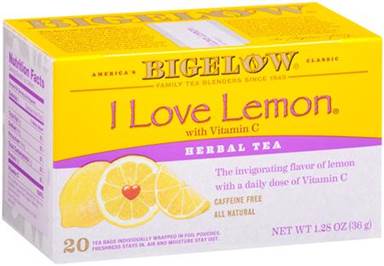 Instructions:
To prepare filling:
Place tea bags into measuring cup and pour boiling water over bags. Let stand for 5 minutes. Remove bags and reserve tea.
Melt butter in large skillet over medium high heat. Add tea, chili powder and garlic. Saute until fragrant, about 1 minute. Add mushrooms, onion and salt. Saute until mushrooms are brown and tender. Add the crumbled tempeh and saute 2 minutes more or until heated through. Remove from heat, cool for 10 minutes.
To assemble quesadillas:
Preheat grill to 350ºF (180ºC). Lightly brush 6 tortillas on one side with oil. Place the tortillas oil-side down on large non-stick rimless baking sheet (Use a cookie sheet with sides by turning it upside down). Divide the filling mixture equally among the 6 tortillas. Top each filled tortilla with cheese. Brush tops with oil.
Gently slide the quesadillas onto the grill. Grill for about 3 minutes on each side, until heated through and golden brown. Remove from grill and let stand for 2 minutes before cutting into wedges. Serve with salsa, sour cream or guacamole and lemon wedges if desired.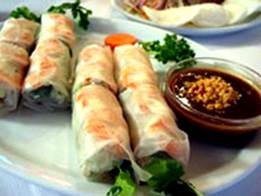 Vietnamese Tea Rolls – Served Cold
Ingredients:
½ pound (250g) mushrooms, diced
4 medium carrots, julienned
1 ¼ cups (310mL) snow peas, stemmed, strings removed and very finely julienned
1 ¼ cup (310mL) bean sprouts
4 green onions, cut into thin slivers
16 large basil leaves
16 rice paper wrappers
3 cups (750mL) boiling water
10 Bigelow® Green Tea with Mint Tea Bags
Dipping Sauce:
½ cup (125mL) boiling water
6 Bigelow® Green Tea with Mint Tea Bags
½ cup (125mL) fresh lime juice
3 tablespoons (45mL) low sodium soy sauce
1 tablespoon (15mL) honey
1 tablespoon (15mL) Asian Chili Sauce
2 garlic cloves, minced
1 teaspoon (5mL) fresh ginger
2 green onions, minced
Yield: Serves 8 (2 each) Prep Time: 45 mins Cook Time: 2 mins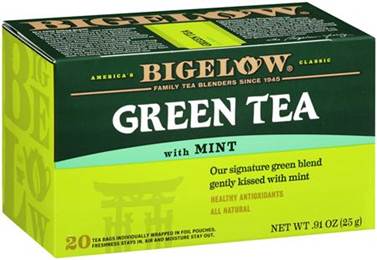 Instructions:
Bring a small saucepan of water to a boil, add mushrooms, carrots, snow peas and bean sprouts, blanch for 1 minute, and transfer to a paper towel. Have green onions and basil leaves prepared.
Boil 3 cups (750mL) water, add 10 tea bags and let steep for 5 minutes. Remove tea bags. Pour tea into a low sided casserole. Cool.
To assemble rolls, soak sheets of rice paper in tea for 1 minute, carefully transfer to a paper towel, let sit 1-2 minutes or until pliable.
To assemble each roll, take a soaked wrapper, arrange 1/16th of the vegetables in a row on top of the wrapper, roll up rice wrapper folding in flaps after first turn. Add one basil leaf, keep rolling. Continue until all the rolls are finished. The rolls will keep in the refrigerator for 6 hours, tightly covered. To serve cut in half on the diagonal and serve with dipping sauce.
To make sauce, pour boiling water over 6 tea bags, let steep five minutes, remove tea bags. Combine tea, lime juice, soy sauce, honey, garlic, ginger and green onions. Mix well and serve with wrappers.
Image by ciao_yvon via flickr.com