Enter Our Celebrate Fall Bigelow Sweepstakes And Win Our New Chai Teas!
Tuesday, 1 October 2013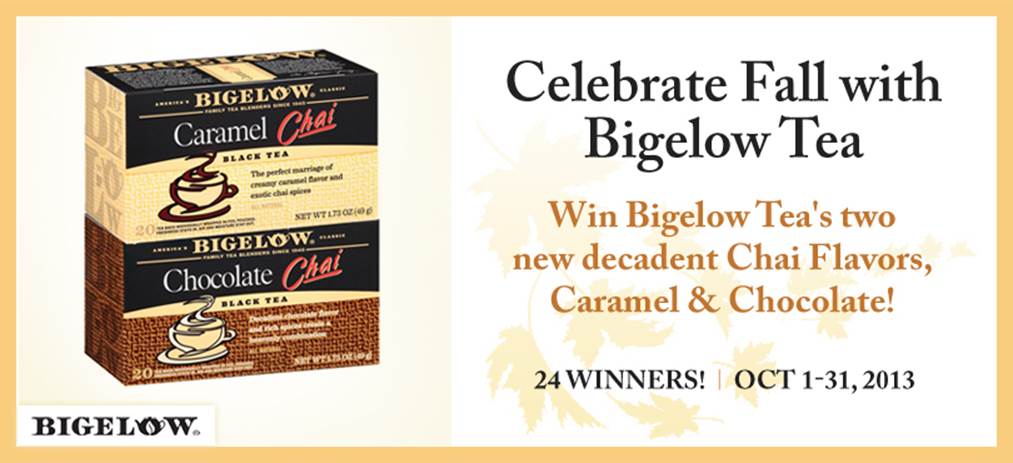 It's time to enter the Bigelow Tea October sweepstakes for your chance to win our new Caramel Chai and Chocolate Chai teas! Get ready to "fall" for these tantalizing blends of black tea and exotic spices that are just right for the season's cooler temps! A total of 24 lucky winners will take home one box of each flavor.
The Caramel and Chocolate varieties are the latest additions to our popular Chai Tea line introduced in 2005. If you're already a chai fan, the new flavors offer another tempting twist on this centuries-old drink enjoyed by the Maharajas of India. Love the taste of rich, dark chocolate? Is creamy caramel your go-to flavor? You can enjoy both with this tea prize! For an authentic chai experience, just add a touch of milk and sweetener to your tea after brewing. Delicious!
To enter, "like" our Facebook page and click on the sweepstakes icon under our large cover photo.  The sweepstakes ends on Oct. 31. Check our blog to see if your name is on the winners' list. Good luck, and enjoy the beautiful fall colors!