Bigelow Tea's "Constant Comment"® Spices Up Our Cupcake Recipe
Tuesday, 8 October 2013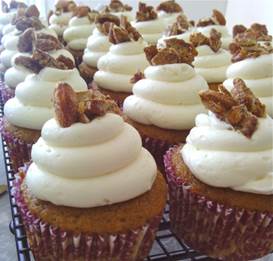 Tea and cupcakes go together beautifully, so why not include this beverage as a baking ingredient?! We've been doing it for years—making recipes with tea—and we found a tea-lover in Maine who had the same idea! During our visit to Whole Foods in Portland, Maine, Bigelow Tea chatted with Kristal Robishaw, a baker at the store, and learned she loves to experiment with new cupcake recipes. She also likes to add tea to her mixes!
Upon hearing this news, we of course had to give Kristal a box of our "Constant Comment"® to take home and try out. Later on, Kristal shared with us her excitement in coming up with her latest cupcake creation featuring "Constant Comment" tea. Here's what she had to say about this tea-infused treat:
"Well, I made some pumpkin cupcakes with "Constant Comment" and they came out amazing. I didn't use any additional spices other than the tea because I really try to make the tea the star in my recipes … I just used a basic cream cheese buttercream [frosting] recipe and topped them with a pecan praline crumble."
She also added that she would be serving the cupcakes at a barbecue soon. "I'm sure they will be a hit," she added. We think so too. And below is her recipe, which we all can make at home!
Pumpkin "Constant Comment" Cupcakes
Ingredients:
5 Bigelow "Constant Comment" tea bags steeped in ½ cup boiling water
½ cup butter
1 cup granulated sugar
1 cup brown sugar
4 eggs
1 can of pumpkin puree
2 cups all-purpose flour
2 teaspoons baking powder
1 teaspoon baking soda
1 teaspoon salt
½ cup vegetable oil
Instructions:
Recipe created by Kristal Robishaw
Preheat oven to 350 degrees (F).
Steep tea and set aside to cool (be sure to squeeze tea bags to get all the liquid). Cream together butter and sugar until light and fluffy. Slowly add eggs, one by one. Once eggs are combined, add the can of pumpkin. In a separate bowl, sift together flour, baking powder, baking soda and salt. To the tea that has been steeped, add enough vegetable oil to reach the ¾ cup mark on measuring cup. Alternate mixing the wets and dries to the pumpkin mix until combined. Scoop mixture into cupcake liners and bake for 20 minutes or until a tooth pick is inserted and comes out clean.
Makes 24 cupcakes