Bigelow Tea Loves The Pumpkin And Its Many Uses
Friday, 25 October 2013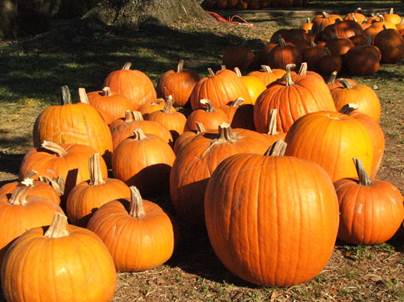 At Bigelow Tea we appreciate resourcefulness, and in the food world, no food screams versatility more than the wonderful pumpkin. Tomorrow, October 26th, for National Pumpkin Day, and all month for National Pumpkin Month, we'll be celebrating this all-around great gourd. So what makes the pumpkin such a hit on the fall scene?
Kids have been carving pumpkins into jack-o-lanterns for hundreds of years, a tradition that started in Ireland. Adults love to cook with them since they are low in calories, fat and sodium and have so many uses. Everything from the flowers to the seeds and even the flesh can become ingredients in various recipes. And the greatest thing about the pumpkin?  It tastes delicious in our Pumpkin Spice Tea!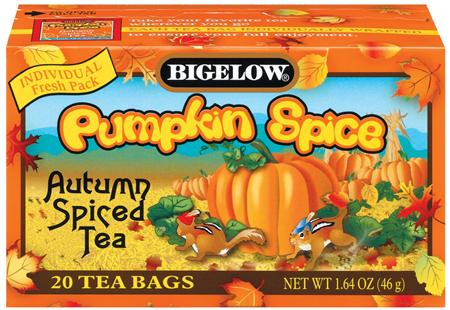 So, to celebrate National Pumpkin Day tomorrow, here are a few recipes that use that tasty tea: our Pumpkin Spice Quick Bread and our Pumpkin Ginger Cheesecake!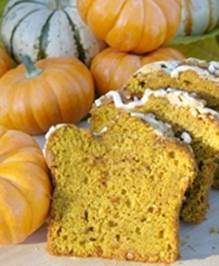 Ingredients:
½ cup milk
8 Bigelow® Pumpkin Spice Tea Bags*
1 ½ cups all purpose flour
1 teaspoon baking powder
½ teaspoon salt
1 cup granulated sugar
½ cup unsalted butter (1 stick), at room temperature
2 large eggs
½ cup raisins (optional) or ½ cup of chopped walnuts (optional)
Yield: One 9″ x 4″ loaf
Instructions:
Combine milk and tea bags in a small saucepan. Heat over medium/low heat until bubbles form around the edge, stirring occasionally (DO NOT BOIL). Remove from heat and let cool (15-20 minutes): remove tea bags, squeezing out liquid. Set aside.
Preheat oven to 325º F. Grease 9″ x 4″ loaf pan.
In a large bowl, combine flour, baking powder and salt. In a separate bowl, cream together sugar and butter. Add eggs and mix until smooth. Alternate adding tea-infused milk and flour mixture, stir after each addition.
If you choose, add raisins and stir to combine.
Pour batter into loaf pan. Bake 45-60 minutes until a toothpick inserted in center comes out clean. Cool on wire rack before removing from pan.
For Pumpkin SpiceTM Quick Bread with Walnuts: Substitute for the raisins.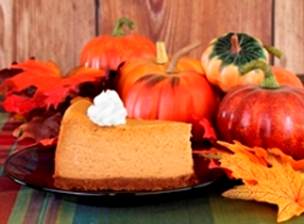 Ingredients:
4 tablespoons (60mL) butter, melted
1 1/4 cup (310mL) gingersnaps, crushed
1 tablespoon (15mL) brown sugar
1 teaspoon (5mL) cinnamon
10 Bigelow Ginger Snappish Tea Bags
10 Bigelow Pumpkin Spice Tea Bags
1 1/2 cup (375mL) heavy cream
24 ounces (750g) cream cheese, softened
1 1/2 cups (375mL) sugar
3 large eggs
1 1/2 cups (375mL) pumpkin pie filling
1/4 cup (60mL) pecan halves
Prep Time: 35 minutes – Cooking Time: 70 minutes

Yield: Serves 10                     
Instructions:
Preheat oven to 325*F (160*C).
To make the crust, melt the butter in a small saucepan. Mix the gingersnaps, brown sugar and cinnamon together.  Add the melted butter and mix together with a spoon.
Spray a 10″ (25cm) spring-form pan with cooking spray.  Press the crumb mixture into the bottom.
Filling:
Add heavy cream into saucepan, heat over medium heat, be careful not to boil.
Add Bigelow Ginger Snappish and Bigelow Pumpkin Spice tea bags and steep cream for 5 minutes. Remove tea bags and squeeze out excess cream. Set aside to cool.
Beat cream cheese in large bowl with an electric mixer until fluffy, gradually add sugar, beating well.  Add the eggs one at a time and beat the mixture until it is fluffy and pale. Add the cooled cream and beat well.  Stir in the pumpkin pie filling, combine well and pour the cheese mixture into prepared springform pan.
Place pan into a larger pan and fill with hot water halfway up.  Bake for 60-70 minutes. Do not over bake, the middle should have a little jiggle.  Refrigerate at least 3 hours to chill thoroughly.
Remove cheesecake from the pan, decorate the edge of the cheesecake with pecan halves, cut into wedges and serve with whipped cream if desired.
Top Image by ronnieb via morgueFile.com