A Sweet Bigelow Tea Valentine Sweepstakes!
Monday, 3 February 2014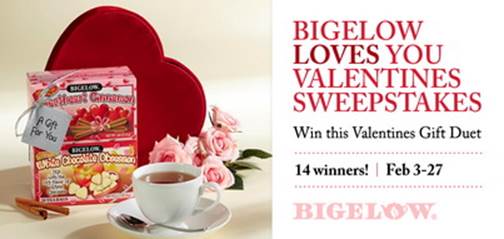 Hey Bigelow Tea lovers, it's time for a sweet Valentine Sweepstakes! A total of 14 lucky winners will take home this Valentine Gift Duet featuring one box each of White Chocolate Obsession Tea and Sweetheart Cinnamon Herb Tea—both tasty any time of year but especially during the season of amour!
White Chocolate Obsession blends the taste of rich chocolate and robust black tea for a guilt-free indulgence. Add a touch of milk and sweetener and we're talkin' dessert here! Sweetheart Cinnamon is a tantalizing cinnamon and sweet apple herb tea inspired by the flavor of those yummy cinnamon hearts … and it's all natural and caffeine free!
Each box comes with 20 tea bags, so the "duet" has a total of 40 bags of Bigelow Tea! Score!
To enter, simply "Like" the Bigelow Tea Facebook page (if you haven't already!), click on the sweepstakes icon at top of the page under the large cover photo, and follow the instructions. Share on Facebook and Twitter to get more entries! The sweepstakes ends on Feb. 27. Look for the names of the 14 winners on the Constant Comments blog.
Good luck, and happy Valentine's Day from the entire Bigelow Tea family! #BigelowFamily