Wedding Dreams At Bigelow Tea's Charleston Tea Plantation!
Tuesday, 11 February 2014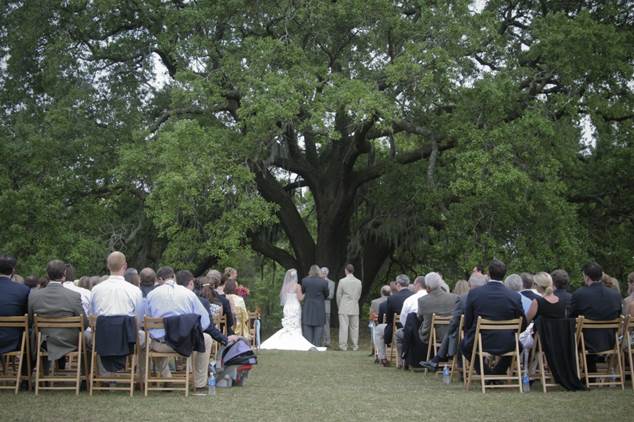 So you're engaged to the guy or gal of your dreams (congrats!), and now it's time to plan your dream wedding! February is National Wedding Month—a reminder that it's not too soon to begin preparing for that spring, summer or fall celebration. Deep breath! Did you know that Bigelow Tea has a fantastic venue? It's the Charleston Tea Plantation, tucked away on Wadmalaw Island in South Carolina's Lowcountry!
How romantic to exchange vows under the branches of "The Wedding Tree," the plantation's largest live oak. Or you could have the ceremony out in the open surrounded by acres of lush tea plants. Picture your wedding party making a grand entrance shaded by a canopy of oaks that form a charming archway. And for the reception, get the party started at the covered pavilion, which has overhead lighting and ceiling fans to keep things cool on warm summer days. Dress the tables and decor up or down to suit your style! As for your guests, treat them to a trolley tour of the grounds, home to the largest working tea garden in the United States.
Need a bit more inspiration? Grab a mug of Island Green Tea (grown on-site!) to set the mood and check out Bigelow Tea's Wedding board on Pinterest, where you'll find more gorgeous wedding photos. And be sure to follow @charlestontea on Instagram to see pics like this one of Mr. & Mrs. Bigelow (which @stardusthippie declared "Charming!") and of the tea garden's stunning natural beauty … truly a magical place where wedding dreams are made. Clearly, as a family-run company, Bigelow Tea is more than excited to help you start your new family! Cheers!