Cindi Bigelow Shares a Memorable Evening At The School for Ethical Education's Ethics Awards Dinner
Wednesday, 14 May 2014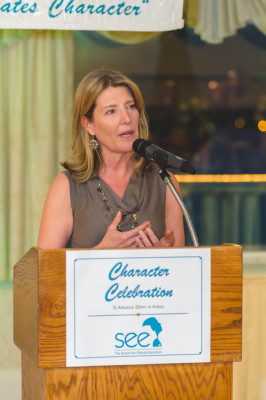 The other night, I had the most wonderful opportunity to speak to high school students from all over Connecticut who won very special Laws of Life Awards for ethics in action.  The students were chosen based on essays they had written from experiences in their life that really taught them to be the best they can possibly be.
I, too, was honored to receive an Ethics in Action Award and be their keynote speaker.  During my address I shared with them experiences in my life that helped shape me to be the person I am today, both personally and professionally.  I shared many stories of my father who helped define who I am today.
My favorite story that I shared was when I first started working at Bigelow Tea.  I had just gotten my MBA and was feeling very excited about working and all the changes I would be able to make (in my opinion, to make the company better).  My father walked in after my first three days and asked me how things were going.  I looked up at him proudly and stated, "Fantastic! I changed this, I've done this, I've accomplished this. "He smiled nicely and then said to me, "I noticed you have some envelopes outside in the out basket," (yes, we did have out-baskets back then), "and they're missing some stamps."  I said, "Oh, I brought in some bills to mail out." And then he said, "Well, if you don't put stamps on your envelopes, why should the other employees put stamps on theirs?  So, why don't you go out there, grab your envelopes and put some stamps on them." And then he looked at me and walked out the door.
I stood there for a minute or two, my head spinning.  That wasn't how I anticipated my first business conversation with my father to go, but to this day, almost thirty years later, I have never forgotten what he said and I never will forget what that stood for.
I really enjoyed having the opportunity to share that with the students and I think that simple little story really resonated with them, as it did me, about the importance of ethics in business and ethics in life.
Spending time with exceptional students at the School for Ethical Education's Ethics Awards Dinner and sharing some special stories in my life made for a memorable evening.
Cindi Bigelow