Great Grilling With Bigelow Tea
Wednesday, 9 July 2014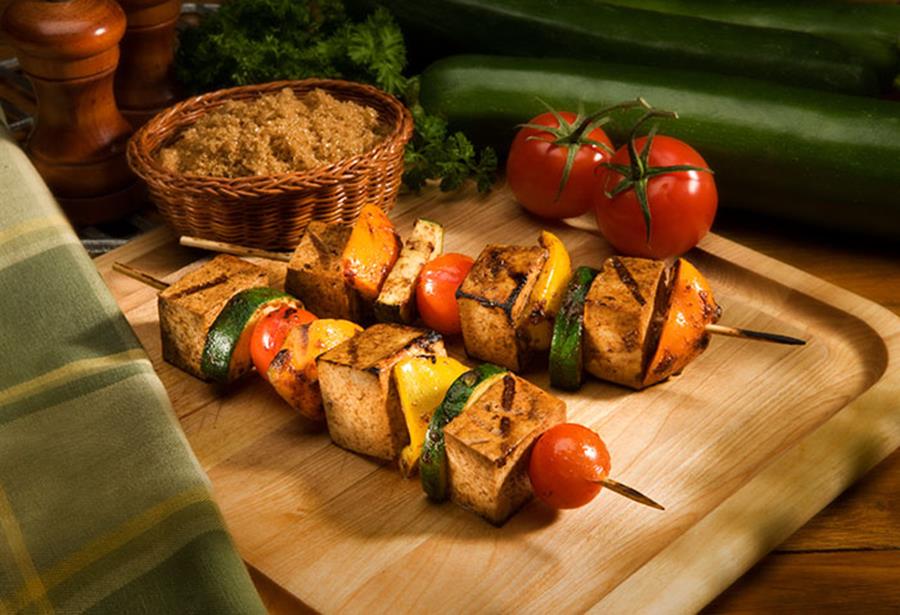 If you're often found grillin' like a villain in sub-zero weather or with an umbrella in hand during those springtime showers, National Grilling Month has to be among your favorite times of year! Yes, July is THE best time to get some fresh produce and protein on the grill and turn it into a delicious meal. Bigelow Tea makes a wonderful grilling ingredient and marinade component, adding flavor to everything from tofu to veggies. Here are two recipes to get you started. Your neighbors will be peeking over the fence to see what's on the grill!
(pictured above)
Ingredients
8 – 6 inch wooden skewers
1 – 14 oz. package extra firm tofu
3 Bigelow® Green Tea with Pomegranate Tea Bags
3 Bigelow® Earl Grey Tea Bags
2 cups hot water
½ teaspoon salt, plus additional for sprinkling
1 tablespoon honey
1 medium zucchini, cut into 1 inch rounds
8 Baby Bella mushrooms, cleaned (about 8 oz.)
2 tablespoons canola oil (for brushing)
Non-stick grill spray
Instructions
Tofu is a great vegetarian, low-calorie alternative for your grill, and marinating it in tea gives it great flavor and color. A touch of honey adds sweetness and helps to create a beautiful grill marks as it caramelizes. First, set wooden skewers in water and allow to soak for approximately 30 minutes. Next, sandwich the block of tofu between two plates lined with a few layers of paper towels. Place something heavy on top plate (like a can) so tofu can drain for 10-15 minutes. In large bowl, combine hot water and tea bags and steep for 5-7 minutes. Squeeze out tea bags into bowl, remove, and add salt and honey to tea. Stir until honey is dissolved. Cut tofu into 1 inch cubes, and add to bowl. Set aside to marinate for 15 minutes. Thread 2-3 cubes of tofu and 2-3 pieces of vegetables onto each soaked skewer, being careful not to pack the skewers too tightly. Brush each skewer with canola oil and season with a pinch of salt. Spray a gas grill with non-stick grill spray and preheat to medium-high. Place skewers on grill, and cook for approximately 2-3 minutes per side, until grill marks appear and tofu begins to form a nicely colored crust. Note: be very gentle when turning skewers (use a grill spatula), as the tofu is delicate. Remove from grill and serve hot.
Grilled Lemon Portobello Mushrooms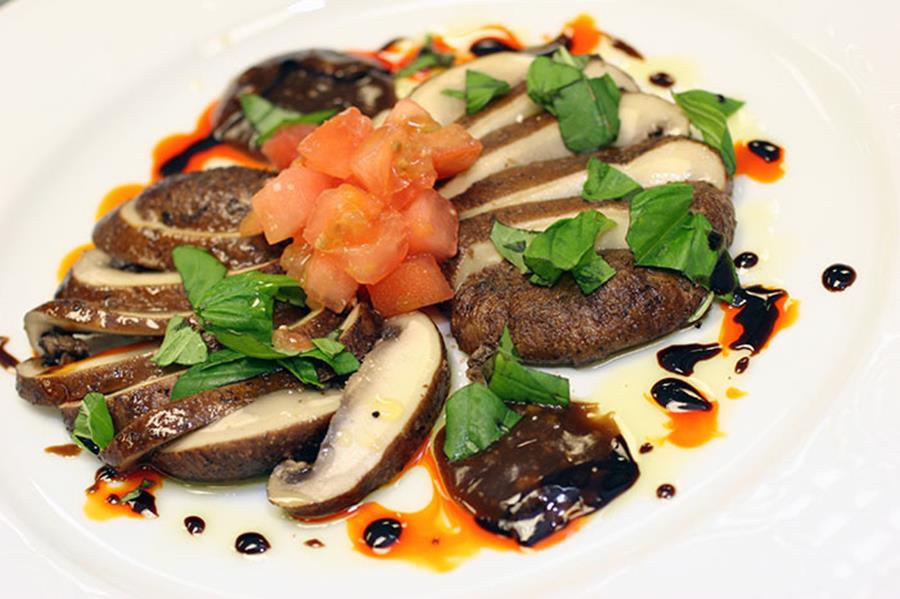 Ingredients
6 large Portobello mushrooms
8 Bigelow® I Love Lemon Herbal Tea Bags
1 cup (250mL) boiling water
3 tablespoons (45mL) fresh coriander, chopped
Salt and pepper to taste
1 cup (250mL) extra-virgin olive oil
Instructions
Clean mushrooms with a soft brush and remove stems. Set aside. Place 8 Bigelow® I Love Lemon Herbal Tea Bags into a measuring cup and pour boiling water over tea bags. Let steep for 5 minutes. Remove tea bags. Mix together tea, coriander, pepper and salt and gradually whisk in olive oil. Place mushrooms in a zip lock bag and pour marinade over mushrooms. In refrigerator, let marinade for up to 24 hours. When ready to grill, place mushrooms on preheated grill and cook 8 to 10 minutes per side or until tender, basting frequently with reserved marinade. Slice mushrooms and place on salad greens, or serve as an appetizer. They also go very well with steak.