Joe Torre, MLB And Bigelow Tea Star, Is Going To Cooperstown!
Friday, 25 July 2014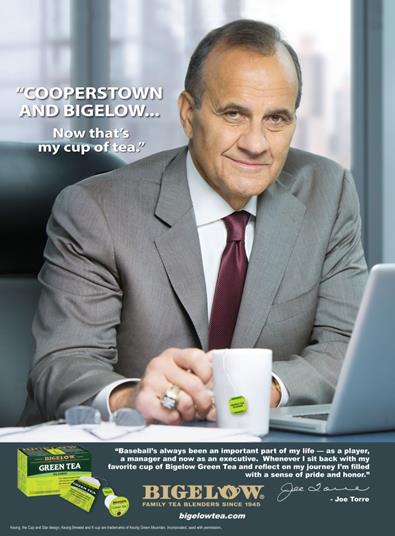 Things are buzzing at Bigelow Tea—our good friend and baseball legend Joe Torre is going to Cooperstown! Bigelow Tea takes sports seriously, and this highest honor in baseball is well deserved with Joe's stellar career! Bigelow Tea is proud that Joe was also the first sports star spokesperson for this family owned and operated tea company. Remember there is no TEAM without TEA!
As a player, Joe's career batting average was .297 with 2,342 hits and 252 home runs; and in an even greater career as a legendary manger he won six American League Pennants and four World Series, ranking fifth in all-time wins with 2,326!
Joe has made a great impression on tea drinkers for years. He shared his love for Bigelow Tea in this vintage video from 2007, talking with Bigelow Tea President and CEO Cindi Bigelow (and another great Bigelow Tea lover Phil Simms). Joe shares that when diagnosed with cancer, he took action and decided that Bigelow Tea would be part of his overall plan for taking care of himself. That's why Joe was often seen drinking Bigelow Green Tea during his amazing career with the New York Yankees!
Today Joe is the Executive Vice President of Baseball Operations for MLB and keeps busy with the Joe Torre Safe At Home Foundation. Sunday, July 27 at 1:30 p.m., after many other awards, Joe will receive baseball's highest honor. The Bigelow Tea family is proud to say that Joe has been an All-Star on Bigelow Tea's team for years!