Bigelow Tea July Sweepstakes Winners Announced!
Wednesday, 30 July 2014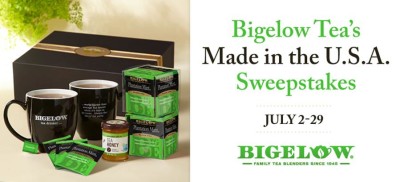 We are so excited to announce our July sweepstakes winners.  Please allow time for us to contact you to confirm your mailing information but we do hope you enjoy your Bigelow Tea once it arrives!!  We hope our tea delights you!!
Leland L. from Illinois
LaNessa G. from Tennessee
Tammy C. from Ohio
Tori B. from Kansas
Shelia W. from Ohio
Susan C. from Kansas
Melissa M. from Pennsylvania
Ivette C. from New Jersey
Monica K. from Indiana
Sherry B. from Pennsylvania
Sheryl S. from Missouri
Margaret R. from Washington