The Bigelow Tea Back To College Varie-TEA Sweepstakes Starts Today!
Friday, 1 August 2014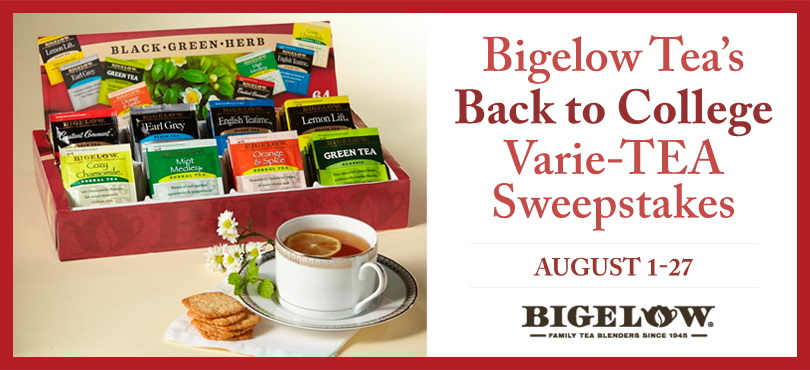 Start the fall semester on the right foot and enter to win a Fine Tea & Herb Tea Assortment from Bigelow Tea for yourself or a special college student in your life! This prize is all about varie-TEA with 64 assorted teas, each individually wrapped and stored in a handy box that tucks neatly into the tiniest dorm room or kitchen. Just pick your fave flavor for late-night studying, hangin' with friends or fighting off the occasional case of homesickness.
A total of 24 winners will take home this awesome tea sampler. It comes with eight tea bags each of the following flavors. Enjoy hot or iced:
So head over to the Bigelow Tea Facebook page to enter. Simply "like" the page (if you haven't already), click on the sweepstakes icon under the large cover photo or on the side of the page, and follow the entry instructions or if on your mobile device, click here. Be sure to share the sweepstakes on Facebook and Twitter to get more entries. You can enter once per day until the sweeps ends on Aug. 27. Check the Bigelow Tea blog to see if you're one of the 24 lucky winners.
Good luck … and Bigelow Tea wishes all those going back to school (and their parents) a TEA-rific year!