Everything Is Peachy At Bigelow Tea!
Wednesday, 6 August 2014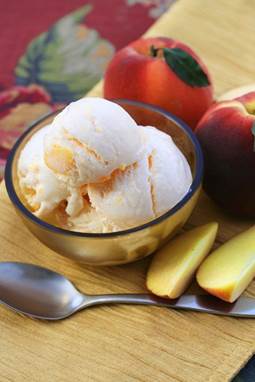 Beat the summertime heat with Bigelow Tea as you try out some delectable, peach-inspired recipes—in celebration of National Peach Month.  One of the most abundant, refreshing and succulent fruits to enjoy at this time of year, the peach is made even more tasty when paired with Bigelow® Green Tea with Peach!  Try these tasty Bigelow Tea concoctions and enjoy some dinner and dessert!
Grilled Green Tea Chicken and Peaches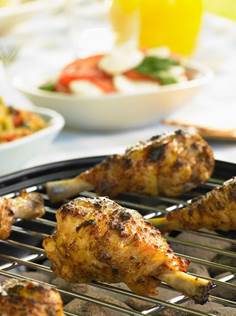 Ingredients:
1 whole chicken – cut up – about 4-5 pounds
¾ cup water
⅓ cup honey
1 teaspoon freshly ground pepper
¼ cup extra virgin olive oil
Freshly grounded pepper and salt to taste
4 fresh peaches, halved and pitted
Directions (for Marinade):
In a small saucepan over medium high heat, bring water to the boil and add teabags, reduce heat and simmer for 10 minutes reducing liquid by ¼. Stir in honey and black pepper.
Directions (for Grilling Chicken):
Preheat grill. Rub chicken with the olive oil and sprinkle lightly with salt and pepper. Place chicken on grill, turn to medium low heat (or use "Indirect" cooking according to grill instructions) and brush with Green Tea with Peach marinade. Cover grill and cook chicken for 15 minutes, brush again with marinade, and cook for another 15 minutes, turn over and brush with marinade and continue cooking for another 20 minutes. Check chicken with a meat thermometer which should read 140-150*F. Remove from heat. Brush peaches with marinade and place cut side down on grill. Grill for 3-4 minutes. Turn, brush with marinade and grill for another 3-4 minutes.
Time: 55-65 minutes
Yield: Serves 4
Green Tea with Peach Ice Cream
(Pictured at top)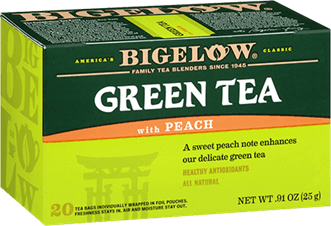 Ingredients:
2 cups heavy cream
1 cup half-and-half
¾ cup sugar
Dash of salt
½ teaspoon vanilla extract
1 cup diced fresh or canned peaches, drained
Directions:
Combine heavy cream and half-and-half in a medium saucepan and bring to a simmer over medium heat, being careful not to boil. Turn off the heat; add sugar and salt, stirring to dissolve. Add the vanilla and the tea bags and let the mixture cool to room temperature, occasionally stirring and gently pressing the tea bags to infuse cream with the tea flavor. When cool, cover tightly and place in the refrigerator overnight. Before freezing, pour the mixture through a sieve set over a large bowl. Press the tea bags to release flavor. Add the diced peaches and freeze in an ice cream maker according to the manufacturer's directions.
ChillingTime: 4-6 hours
FreezingTime: 25-30 minutes
Yield:  1 Quart
Photo (at very top) via Wikimedia Commons.