Bigelow Tea's Back To College Tips
Wednesday, 13 August 2014
It's that time of year again. What seemed like an endless summer has now come to a sudden halt. College students have wrapped up once-in-a-lifetime internship opportunities, said good-bye to their parents for another semester, and moved back into their dorms. All these changes combined with figuring out your class schedule can be stressful—but it doesn't have to be.  Here are a few "Back to College" tea drinking tips from Bigelow Tea:
It always helps to have an assortment of Bigelow Tea for every occasion: A cup of Earl Grey for the morning, Green Tea with Mango for an afternoon pick-me-up, and Cozy Chamomile to unwind after a busy day of classes and studying.  Bigelow Tea also has a number of assorted teas packs, perfect for college living.
Heat your tea water with an electric tea kettle or in your dorm microwave. Both are space savers and multipurpose. If you're looking for temperature directions, here's a handy guide to bookmark on your cell phone.
This Tea for One Personali-Tea mug is a great way to begin your college journey. It also comes with an assortment of flavors, so you can enjoy the teas you like most while making new discoveries.
Socialize with Bigelow Tea. Whether you're studying or looking for a quiet night with your roomie, there's a flavor for every occasion. Don't forget to check out the delicious drink recipes online!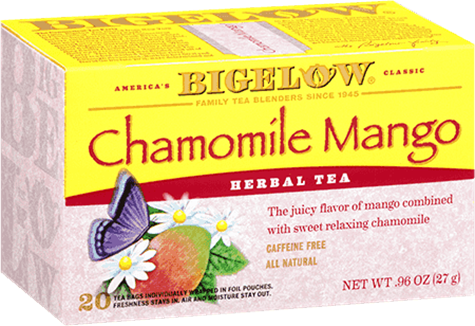 As college student @ayyojitos mentioned, it's "time for some shut eye so I can sign up for classestomorrow. #backtocollege." This is the perfect time to steep a mug of Chamomile Mango Herbal Tea and spend a few minutes relaxing. Bigelow Tea's college survival tips: Stay calm, make friends, study hard, and drink tea!
Keep us posted on your accomplishments throughout the semester and remember to send us your #backtocollege tea sippin'#mugshots!