A Well Deserved Dedication For Mr. Bigelow!
Thursday, 11 September 2014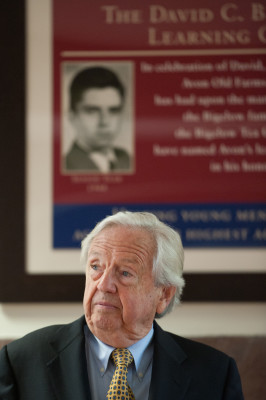 I do not have the words to share with you how special yesterday was for my family.  My father, David C. Bigelow had the most well deserved surprise when he arrived at the school he went to from 1940 to 1944, Avon Old Farms School, for he discovered that we had dedicated the Learning Center in his name.  My grandmother, Ruth, had worked with the founder of the school,  Mrs. Riddle, to allow my father to go for free (they had lost everything during the depression).  It was to there that he truly attributed his ability to work with people (he was on the student council and was elected President of the class).
The learning center was done beautifully, having many framed photos and passages that my father had written over the years.  He was completely taken aback and so very humbled.  But then again, my father is a humble man.  The David C. Bigelow Learning Center-a special building to  help young students learn, grow and take the world to a better place….yes that is the spirit of my father.  It was a great day and one we all remember for a very long time….
Cindi Bigelow
(Image courtesy of http://www.seshuphotography.com)