Bigelow Tea Offers Holiday Gifts for Tea Lovers, Beauties and Foodies 
Wednesday, 10 December 2014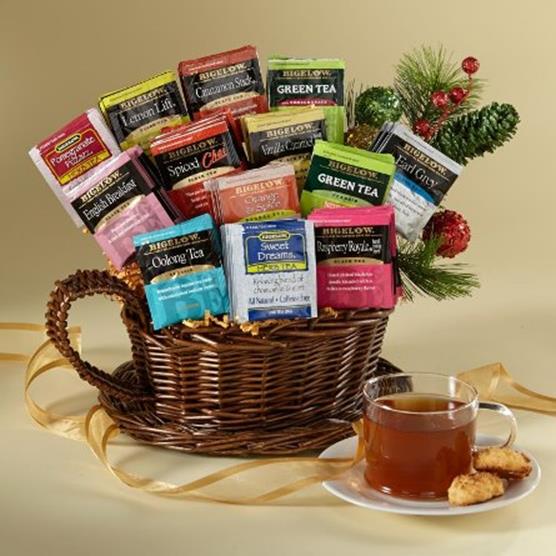 Whether it's a present for family, your child's teacher, a colleague or a best friend, finding the perfect holiday gift can be stressful! After all, you want them to love it right? Well, Bigelow Tea believes you can't go wrong with—well—tea! With more than 120 varieties to choose from, there's something for everyone on your list. Consider the pretty Holiday Wicker Cup and Saucer (pictured above). The oversized teacup basket contains 13 tea varieties, 104 individually-wrapped tea bags in all!  And the basket can be refilled later with potpourri, a plant or even more tea!
If you want to think outside the (tea) box … here are two more delightful holiday gift offerings—both inspired by tea of course—for the beauties and the foodies on your list.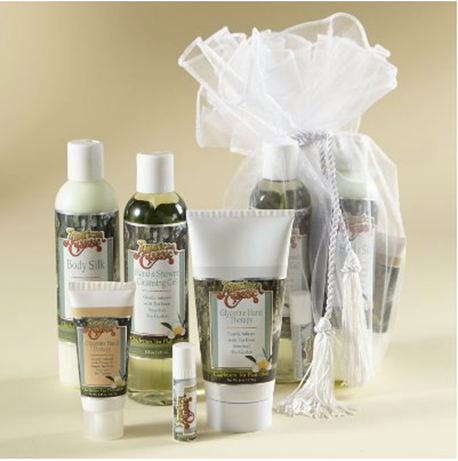 Bigelow Tea's American Classic Holiday Gift Set features some of the most beautiful lotions and hand creams from the Charleston Tea Plantation, infused with the natural American Classic tea.  Wrapped in organza with an elegant cord, this set includes an 8 oz. American Classic Body Silk, 6 oz. Glycerine Hand Therapy, 8 oz. Shower Gel, a 1.35 oz. purse-size Glycerine Hand Therapy with Mango, and a Lip Balm.  A spa-like experience to be enjoyed all year long.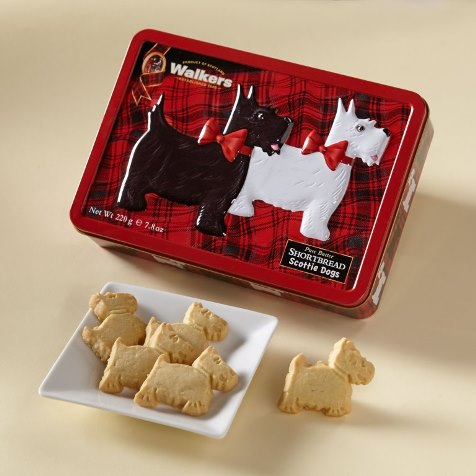 This Scotties Cookie Tin filled with pure butter shortbread cookies is "begging" to be paired with a warm cup of Bigelow Tea like the amazing one-of-a-kind Earl Grey Green Tea. The nibbles in this 7.8 oz. Walkers tin featuring black and white Scottie dogs are baked in the secluded village of Aberlour, Speyside in the Scottish Highlands. The cookie is a traditional recipe handed down through generations—a family business much like Bigelow Tea, built on quality ingredients, great taste, and a whole lotta love.  And who doesn't love cookies and tea? @zachyer tweeted this demand recently: "Someone make me some tea and cookies and bring it to my couch." LOL. If only everyone could be so fortunate!
Happy holidays all!