Bigelow Tea Celebrates Founder Ruth C. Bigelow's Birthday!
Friday, 6 February 2015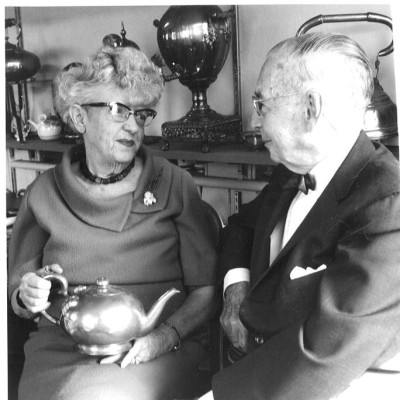 Ruth C. Bigelow with husband David E. Bigelow Sr.
Sunday, February 8th, is a very special day as Bigelow Tea celebrates the birth of founder Ruth Campbell Bigelow! One hundred and nineteen years ago in Providence, R.I., the indomitable Ruth was born! Later, as an adult, Ruth took a great leap of faith in 1945 to launch Bigelow Tea based on a single tea she created in her kitchen: "Constant Comment®."  What a legacy to commemorate as the Bigelow family also marks the company's 70th anniversary this year!
Ruth will be forever remembered as a visionary whose passion for quality, family and American ingenuity continues to fuel the Bigelow Tea mission. How proud she would be to know that the business continues to be family-owned and is now America's number one specialty tea company with more than 120 varieties blended and packaged right here in the USA!
It took determination, grit and hard work for Ruth and husband David Bigelow Sr. to achieve their version of the American dream. Driven by the belief that the country was ready for a more flavorful tea, and inspired by a Colonial recipe, Ruth spent weeks blending black tea, orange rind and sweet spices to perfect  "Constant Comment®." It remains one of America's best-loved teas and still generates lots of conversation, as @sharoncady shared in this heartwarming tweet:  "If friendships had a smell, ours would be #ConstantComment tea!"
Happy birthday to Ruth and her beloved Bigelow Tea … here's to many more generations as America's Family Tea Blenders!