Bigelow Tea Gifts for Every Dad
Wednesday, 3 June 2015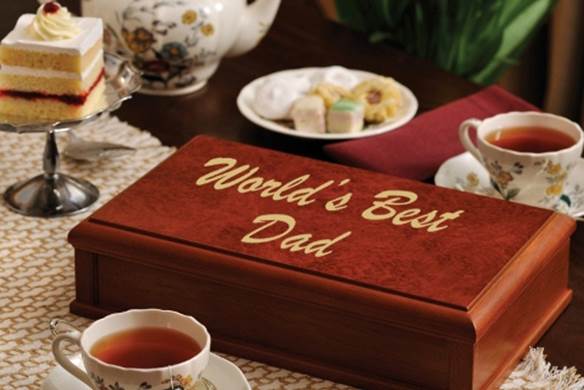 Father's Day is quickly approaching which means it's time to start thinking about gifts for the special Dads in your life. Because family is so important at Bigelow Tea, there are plenty of options for a heartfelt gift to show Dad just how much he is loved and appreciated all year round. From tea chests to personalized tins, the Bigelow family has made sure there is something for every Dad from tea novices to connoisseurs.
For the man who is a dedicated tea drinker; a beautifully crafted, hinged wooden Tea Chest makes a wonderful gift and a lasting impression. To make it extra special you can add Dad's name or a personal message engraved into the chest. Nothing says "I Love you, Dad" like a "World's Best Dad" Bigelow Tea chest!
For the Dad who could use more variety in his tea line up, a Personalized Tea Tin filled with assorted teas is a great selection! Select an assorted variety of black, green, decaffeinated, or herbal teas and add a family favorite photo to the tin. Facebook Fan Kristi Lundine says "This would be great for my special tea lover."
For Father's Day or any occasion, Bigelow Tea has got you covered!