Bigelow Tea Sponsors The Pink Pledge For Breast Cancer Awareness
Thursday, 1 October 2015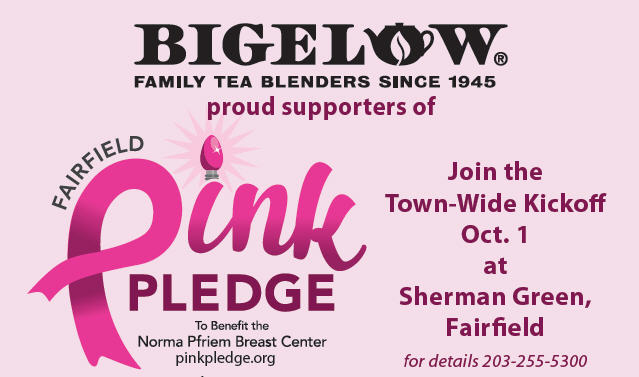 It's time to think pink in honor of Breast Cancer Awareness Month! This year in Fairfield, CT, hometown of Bigelow Tea and Bridgeport Hospital's Norma Pfriem Breast Center, the annual October campaign has special significance as the center celebrates its 15th anniversary. The Pfriem center has joined with the Town of Fairfield to mark this significant milestone with the Pink Pledge, a month-long, community-wide effort to raise funds for the center's programs while promoting breast cancer awareness and early detection.
As a Pink Pledge sponsor, Bigelow Tea is thrilled to help "turn the town pink" for the month of October!
Bigelow Tea and the Eunice & David Bigelow Foundation are proud, longtime supporters of the Norma Pfriem Breast Center, which provides medical excellence, compassionate care and lifesaving programs to ALL women, regardless of their ability to pay.
Pink Pledge kickoff festivities will take place on Thursday, Oct. 1st, rain or shine, at Fairfield's Sherman Green Gazebo in the heart of the downtown area. A Stroll for Strength (just under a mile) starts at 5:30 p.m. at the center's offices at 111 Beach Rd. and will be led by a pink Fairfield Police cruiser as walkers make their way to the gazebo for a 6 p.m. ceremony. Cancer survivors are invited to add their Signatures of Strength to the car that evening and throughout the month. Fairfield businesses have pledged to support the Pfriem center during October and will offer special promotions and events.
"Bigelow Tea is pleased to support the Pink Pledge in honor of the awesome services the Norma Pfriem Breast Center provides to women and families in our community, " said the Bigelow family.
Ever since Ruth Campbell Bigelow started the company that bears her name 70 years ago (yes, Bigelow Tea celebrates an anniversary this year, too!), community involvement and good corporate citizenship have been essential elements of the Bigelow Tea mission. Ruth, who had breast cancer herself, would indeed be honored to know that Bigelow is taking part in the Pink Pledge to benefit the Pfriem center.
For more information or to register for the Stroll for Strength, please contact Christina Casimiro at christina.casimiro@bpthosp.org or 203-255-5300.