Celebrate in Style With A Bigelow Winter Tea Party
Monday, 11 January 2016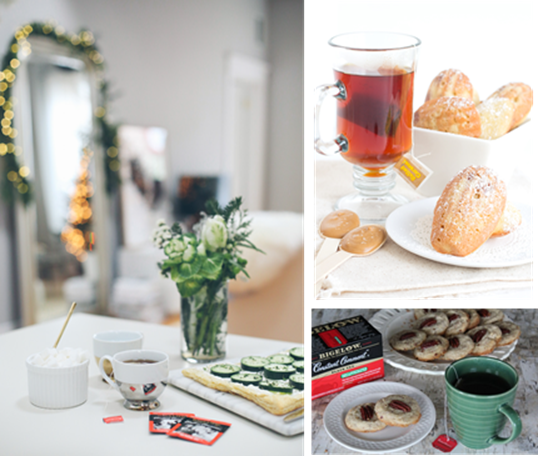 When it's cold outside, make a Winter Wonderland inside — Bigelow Tea-inspired, of course! A tea party is a fun and classy way to celebrate special occasions.
From baby showers and weddings, to birthdays and just-because days, there's always a good reason for a celebration. Plus, January is Hot Tea Month, which is the perfect excuse to throw a party!
When planning your menu, a variety of teas work best. You can never go wrong with a selection that includes Bigelow Tea Earl Grey, Constant Comment and Classic Green Tea, a robust Darjeeling or a rich French Vanilla, you could even add a sweet herbal option like Chamomile Mango Herb Tea. For the food portion of the menu, Bigelow Tea has teamed up with several bloggers to bring you three recipes that can be used for your cozy soiree.
For décor ideas and a recipe for Mini Cucumber Pastry Sandwiches, visit the blog Lows to Luxe. For a sweet nibble, Heather from GirlGoneMom shares a quick and easy recipe for Pecan Thumbprints that you definitely won't want to miss. Or mosey over to Cookie Dough and oven mitt to find a recipe by Miranda for Caramel Madeleines — they're as gorgeous as they are delicious … and all taste great with Bigelow Tea.  And let's not forget beautiful and tasty Ladies Tea Party suggestions from Behind The Camera and Dreaming!
Share your winter tea party ideas – or any recipes you would fit the occasion – on social media with the hashtag #meandmytea!
Images (credited clockwise from top):