How The World Looked In 1945 When Bigelow Tea Began
Wednesday, 20 January 2016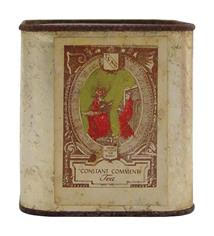 In 1945, World War II ended, the Yalta Agreement was signed and Bigelow Tea was born! As Bigelow has been celebrating 70 years as America's family tea blenders, it's an opportune moment to reflect on the company's auspicious beginning and the many historical milestones ushered in during the same year. Here's a snapshot of events and statistics from 1945, when Ruth Campbell Bigelow adapted a Colonial recipe to create "Constant Comment®":
The first German war crimes trial began in Nuremburg.
Ho Chi Minh declared Vietnam's independence from France.
The average American salary was $2,400.
The cost of a gallon of gas was 15 cents.
Ruth and her husband, David Bigelow, were making a living blending and packaging seasonings that they sold in New York City. They wanted to expand their product offerings, and Ruth's hunch that the American market was ready for a more flavorful tea than the bland brew available at the time proved correct.
A July 1945 article in the New York Herald Tribunereported the following about "Constant Comment,"®according to a recent account in Connecticut Explored magazine:  "One of
Mrs. Bigelow's Park Avenue friends was giving an afternoon party, and it was suggested she try the new blend. Not a word was said to the guest regarding its novelty, yet everyone spoke of the tea's aroma, its flavor—there was 'constant comment.' A good name, why not? Labels were made and the tea was hurried to the stores where it is selling at around 75 cents for the two-and-one-quarter ounce jar. Expensive? But here's a tea so flavorful that three-quarters of a teaspoon make six bracing cups of aromatic spiciness."
Today, "Constant Comment"® remains one of Bigelow Tea's best-loved flavors in a line that has expanded to include more than 120 varieties. Just ask Instagrammer @Scot30, who says "Constant Comment"® is his all-time favorite tea. Enjoy the aroma, taste and nostalgia in every cup of Bigelow Tea!