Bigelow Tea Celebrates All Things Green On St. Patrick's Day
Thursday, 17 March 2016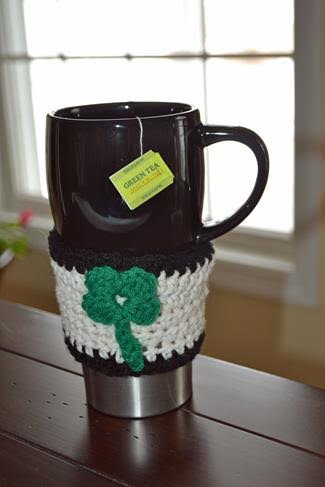 This St. Patrick's Day, Bigelow Tea is celebrating all things green and it starts with tea! Kick off the top o' the morning by brewing a cup of Bigelow Tea Green Tea – from Classic Green Tea to Green Tea with Peach, Bigelow Tea has a variety of flavors for you to choose from. And brewing great green tea doesn't require the luck of the Irish — be sure to bring water just to the point where tiny bubbles begin to form before pouring it over the tea bag for a perfect cuppa!
So, what makes green tea so green (aside from getting into the spirit for St. Patrick's Day)? Green tea comes from the Camellia sinensis plant, the source of all tea leaves. In the case of green tea, though, the leaves are immediately steamed or pan fried to avoid any oxidization. The result is a more delicate tea with lower caffeine content and higher polyphenols that make them popular with the health-conscious.
Why limit yourself to only drinking a great cup of green tea today? You can also prepare a delicious meal enhanced by the flavor of Bigelow Green Tea. For instance, check out the recipe below for Green Tea Ramen Soup; a bit of pasta and a bag of green tea will make your very own pot of gold. Or finish off your meal with Green Tea Cupcakes. Might we recommend decorating with a shamrock or two? However you celebrate St. Patrick's Day, it's the perfect time to make a tip of the hat to the subtle and surprising green tea!
Ingredients
4 cups water
4 bags Bigelow Green Tea
1 tablespoon freshly minced garlic
1 teaspoons freshly grated ginger root
1 tablespoon rice wine vinegar
1 tablespoon reduced sodium soy sauce
2 shredded carrots
7 ounces Soba Stir Fry noodles*
¼ cup chopped green onions (white and green parts)
⅛ cup fresh minced cilantro
Optional: dash of hot sauce or Sriracha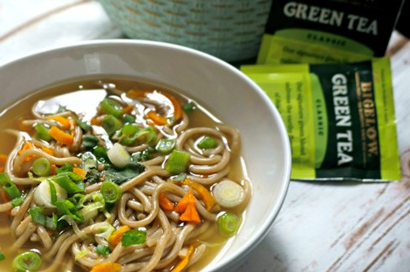 Instructions
Bring water, tea bags, garlic, ginger, soy sauce, and vinegar to a boil. Reduce heat and simmer for 10 minutes. Remove tea bags. Add in carrots (I like them with crunch, if you prefer softer, throw them in at the beginning of cooking process) and soba noodles. Cook for about 2 minutes, or until noodles have warmed through. Serve with green onions, cilantro and a dash of hot sauce if desired.
*A package of fresh, vacuumed sealed soba stir-fry noodles  (usually found in the Asian food aisle) works great, but refrigerated fresh noodles work, as well.