Take Your Pick Of Bigelow Teas From The Camellia Sinensis Plant
Friday, 29 April 2016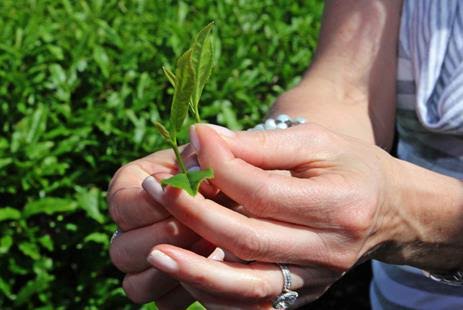 When it comes to multitasking, it's tough to top the camellia sinensis plant. This mighty bush is the single source for three types of tea offered by Bigelow Tea: black, green and oolong! How long the newly plucked leaves are fermented (exposed to air) determines the final tea variety. Third-generation President and CEO Cindi Bigelow shares more fun facts about the process in this video.
Regardless of which type of tea you prefer, rest assured that Bigelow Tea takes great care to work with the world's best growers and suppliers of each one. Here's a closer look at how your favorite brew makes the delicious transition from crop to cup:
Leaves destined to be black teas are immediately exposed to air for six to eight hours, dried and then chopped. Bigelow Tea's black teas are sourced primarily from high-elevation gardens in Sri Lanka and India that adhere to the highest standards for quality and growing practices set by the Ethical Tea Partnership.
Green teas are unfermented, which means they are steamed or pan-fried without being exposed to air, then dried and chopped.
Oolong teas are partially fermented by being exposed to air for about three hours.
Herbal "teas" blend fruits, herbs and spices but do not contain actual tea leaves.
So go ahead – take your pick from Bigelow Tea's 130+ varieties (check out Twitter fan @tiredapplestar's drawer full of choices!) – and enjoy the purity in every sip, along with new-found knowledge about the plant that makes tea possible!