Tango With Mango—Bigelow Green Tea With Mango, That Is!
Friday, 2 September 2016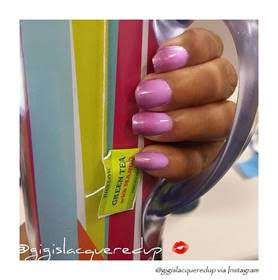 Imagine the taste of a juicy, sweet sun-ripened mango. Now, couple that flavor with the smooth and delicate taste of green tea, and you've got a cup of pure joy—or what we like to call—Bigelow Tea Green Tea with Mango.
So, first, let's talk a bit about the green tea part of Green Tea with Mango. Green tea is made from Camellia sinensis leaves—the same leaves make black and Oolong teas, too. However, the difference is in the production process; green tea is the least processed, thus providing higher amounts of the antioxidant polyphenols known as EGCGs, which is why so many make it part of their healthy lifestyle. Green tea is made by immediately steaming or pan-firing the newly harvested leaves, rather than exposing them to air. This process ensures that no oxidation occurs, and this special handling makes for a more delicate brew that is typically lower in caffeine than black and Oolong teas.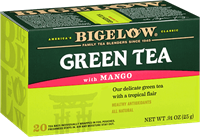 Now, how about the mango? As one of the most popular fruits in the world, the mango was first grown in India over 5,000 years ago. Here's a fun mango fact: legend says that Buddha meditated under the cool shade of a mango tree! Over the years, mango seeds traveled from Asia to the Middle East, East Africa and South America beginning around 300 or 400 A.D. Sweet in flavor and extra juicy, mangoes are enjoyed on their own or in a variety of recipes—they also make for a tasty tea flavor!
You are in for a tropical treat whether you sip Bigelow Green Tea with Mango hot or over ice. It's certainly a flavor that can be enjoyed year 'round, but don't just take it from us… @Pizzamaid can tell you, "IT IS SO DELICIOUS."