Bigelow Tea Is Bringing In The Fall Harvest Flavors
Monday, 19 September 2016
From September to November, the autumn harvest brings a bounty of delicious produce, from pumpkins and pomegranates to apples and cranberries. And if you're looking for the flavors of fall, look no further than Bigelow Tea. Here are a few of our favorite fall foods, along with the Bigelow Tea varieties that capture their flavors.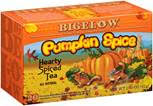 Pumpkins
Bigelow Tea's Pumpkin Spice is a black tea made with real pumpkin flakes, cinnamon, ginger and cloves—just like your grandmother's homemade pumpkin pie! The savory, well-rounded flavor screams cozy and smells like autumn. For the past few years, pumpkins have been the unofficial food mascot of fall.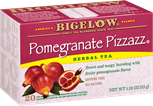 Pomegranates
Rich in history and flavor, pomegranates have been symbols of abundance, prosperity, and fertility going back thousands of years. Today, it can bring a wealth of deliciousness to your cup of tea. Bigelow Tea offers a variety of teas made with pomegranate, including Pomegranate Pizzazz® Herbal Tea, Green Tea with Pomegranate and Pomegranate Black Tea.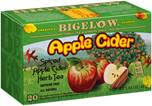 Apples
When we think of fall, it's no surprise that apples come to mind. After all, there's apple picking, apple pie and Apple Cider Herbal Tea! With crisp apple, hibiscus, and real cinnamon, this Bigelow Tea flavor is a just-sweet-enough variety to sip throughout the season.
Cranberries
Tart and tangy, cranberries pop up throughout the season—most notably on the Thanksgiving table. The refreshing taste of this little berry can be found in Bigelow Tea Cranberry Hibiscus and Cranberry Apple, both of which contain real cranberry fiber. Loaded with flavor and antioxidants, it's a cup your taste buds and your body will be thankful for.
Embrace the season by picking up your own bushel of Bigelow Tea boxes. Enjoy a cup after school or work, to start off you weekend, or to close out a day of fall fun like fruit-picking or leaf-peeping. The cozy cornucopia of flavors makes it easy to relax and appreciate the simple joy of autumn.
Apple image by adrianbartel via Flickr
Pumpkin image by Mike Mozart via Flickr
Pomegranate image by veggiefrog via Flickr
Cranberries image by Andrew Yee via Flickr
Pears image by torbakhopper via Flickr