Bigelow Tea Brings The Flavors of Fall To The Table
Friday, 7 October 2016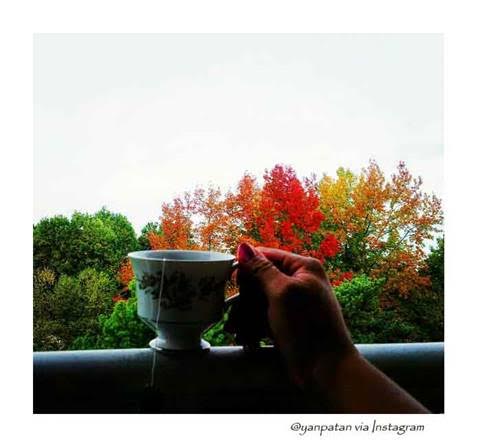 Here at Bigelow Tea, autumn is a much-adored season. What's not to love about cozy, cuddly sweaters worn on crisp New England days, strolling through vibrantly-colored leaves in every shade of russet and auburn, and of course—the season's bounty of flavors! To us, Fall means biting into a big juicy apple, savoring a home baked pie, and warming up with hearty meals featuring all the season's tastiest root vegetables, such as squash and pumpkin. We are thrilled to offer so many fall-themed flavors in our tea repertoire. As well as being a delight to sip, autumn-inspired teas are truly tasty when incorporated into recipes. We wanted to share this menu for a complete harvest-themed dinner that brings in all the savory flavors of the season and celebrates this wonderful time of year.
Toast to fall fun with the luscious taste of pomegranate. This deliciously tangy fruit is at its peak during the fall harvest and makes a fabulous flavor for a fall cocktail.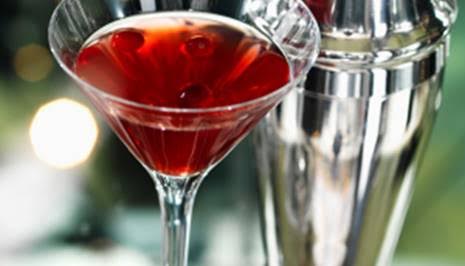 Ingredients
Instructions
Place tea bags into measuring cup and add boiling water. Let steep for 10 minutes. Remove tea bags, add sugar and blend well. Refrigerate until cold. For one drink: Pour 2 ounces of the cooled sweetened tea, 1 ounce vodka, 1 teaspoon lime juice and ½ ounce Triple Sec into a shaker filled with ice. Shake and strain into serving glass.
Enjoy this succulent yet hearty dish that features the festive zest of spiced apples.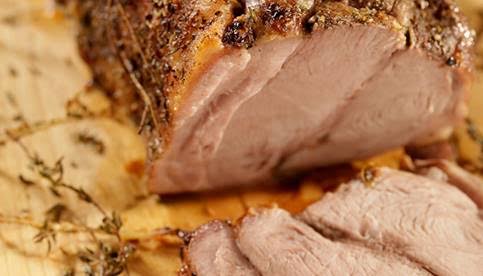 Ingredients
Instructions
Boil water and add 20 Bigelow Apple Cider Herbal tea bags. Let steep for 5-8 minutes. Remove bags by squeezing well and discard. Make slits in the roast and insert garlic slices. Combine 2 ½ cups (625mL) Bigelow Apple Cider Herbal Tea with olive oil, bay leaves and salt and pepper in a large plastic bag, add pork roast and marinate for 8 hours or overnight in refrigerator. Refrigerate 1 cup (250mL) reserved Bigelow Apple Cider Herbal Tea for Apple Garnish. When ready to roast pork, preheat over to 350ºF (180ºC). Remove meat from marinade, place meat in roasting pan and put into oven and roast for approximately 60 minutes or until meat is no longer pink inside and thermometer reads 160ºF (71ºC). Meanwhile, prepare apple garnish by combining reserved 1 cup (250mL) Bigelow Apple Cider Herbal Tea and brown sugar, place in large skillet, add apple slices and cook on medium heat until liquid has reduced and apple is tender and flavored with tea. Serve slices of pork with apple garnish.
Squash is in abundance during autumn—take advantage of it at its peak in this tasty side dish.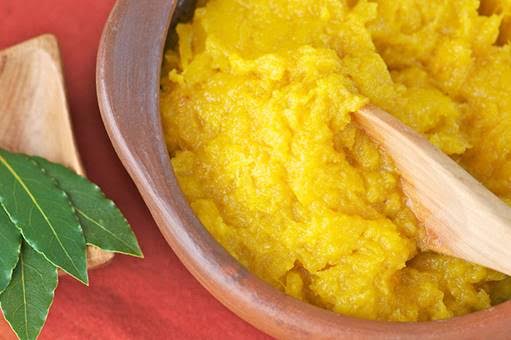 Ingredients
Instructions
Preheat oven to 400º and place oven rack on middle setting. Spray a baking sheet with non-stick cooking spray and arrange the acorn squash cut-side down on the pan. Bake for 40 minutes, or until flesh is soft. Allow to cool for approximately 15 minutes or until cool enough to handle. Meanwhile, combine hot water and tea bags and allow to steep for 5 minutes. Thoroughly squeeze tea bags and discard. Set aside. Using a spoon, scoop out the flesh of the acorn squash and place in large bowl. Mash with a fork. Add ½ cup of the tea, brown sugar, butter and salt, and stir to combine, making sure the liquid is absorbed. Add more tea (1 tablespoon at a time) if the puree is too stiff. Check seasonings, and add more salt if necessary. Serve hot.
Looking for a luscious end to a festive meal? This warming and filling dessert is the ultimate comfort food treat.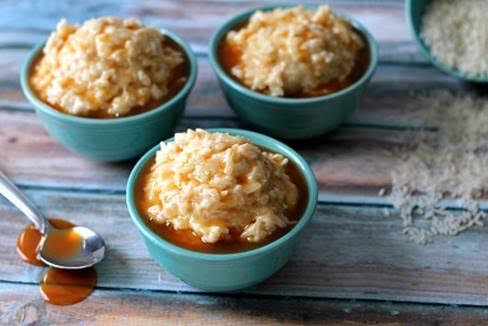 Ingredients
Instructions
Steep your 2 bags of Bigelow Salted Caramel Tea in the 2 cups of water.
In a medium saucepan or pot, combine the rice, tea steeped water, milk, cream, butter, and salt. Bring it to a gentle boil, then cover the pot, reduce it to low, and simmer for 20 to 25 minutes, stirring twice during this stage.
Remove the pot from the stove and add the sweetened condensed milk, and cinnamon.
Return to low heat for 5 minutes to finish cooking.
Remove the pot from the stove and slowly drizzle in the beaten egg, stirring constantly.
Serve immediately in a small bowl. Drizzle with a little store bought caramel sauce and a sprinkle of salt to really put it over the top.
We want to know: What is your favorite way to celebrate fall? Share it here!