Bigelow Caramel-Infused Teas And Ooey-Gooey-Caramel-y Recipes!
Wednesday, 19 October 2016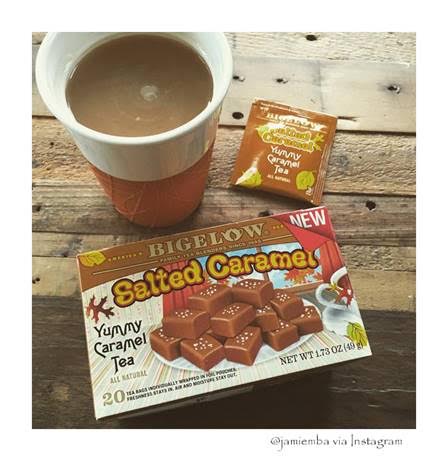 Who can't resist decadent flavors?? And with the weather getting cooler outside in much of the U.S., this is the perfect time to enjoy all things sweet, buttery-rich and just a bit toasty….make way for Bigelow Tea caramel flavors—Vanilla Caramel, Caramel Chai and Salted Caramel.
Besides delicious, what exactly is caramel? And why on earth do we love it so much!? From sauces to wrapped treats, caramel is a versatile piece of sweetness. While its exact history is unknown, it is documented that around 1650, American settlers were making hard candies in kettles. Between this time and the early 1880s, candy makers began to add fat and milk while boiling sugar and water, creating what is now known as ooey-gooey caramel. Caramel candy's popularity increased greatly when Milton S. Hershey opened Lancaster Caramel Company in 1886. Soon after, caramel candies were being shipped across the United States and to Europe.
Jump ahead to today and check out the real pieces of caramel in each of the Bigelow Tea caramel flavors. Salted Caramel is an all-natural blend of hand-picked black tea and delicious caramel with just a hint of salt; Caramel Chai Black Tea is made with spices, real bits of caramel and molasses crystals; and Vanilla Caramel is smooth and sweet, thanks to the rich caramel and creamy vanilla ingredients. Pick a flavor, add a splash of cream and a hint of sweetener and you'll have the perfect bit of awesomeness in your mug of tea!
If that's not enough to lock down your caramel craving, check out one of these crazy amazing Bigelow Tea recipes showcasing caramel. Hey, why not pair a caramel tea with a slice of Vanilla Caramel Bread Pudding and make all your dreams come true!
Vanilla Caramel Bread Pudding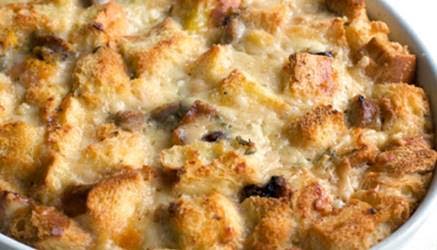 Ingredients
14 or Bigelow® Vanilla Caramel or Bigelow® Eggnogg'n Tea Bags
2 ¼ cups (560mL) whole milk
½ cup (125mL) unsalted butter
1 cup (250mL) sugar
5 large eggs, lightly beaten
1 teaspoon (5mL) cinnamon
1 teaspoon (5mL) vanilla extract
½ cup (125mL) raisins
16 slices of challah bread
Vanilla Caramel Sauce:
¼ cup (60mL) unsalted butter
½ pound (224g) powder sugar
Reserved tea infused milk
Instructions
Preheat oven to 350ºF (180ºC). Heat milk over medium heat, add Bigelow® Tea Bags (either Vanilla Caramel or Eggnogg'n) and raisins; remove from heat and let steep fo 5 minutes. Remove tea bags, squeezing out all excess milk/tea. Strain tea infused milk; reserve raisins. Measure out 2 cups (500mL) and set aside the remaining tea infused milk for sauce. In food processor, combine butter and sugar until well blended; add eggs, 2 cups (500mL) tea infused milk, cinnamon and vanilla. Continue processing until well blended. Lightly butter a 9″ x 13″ baking dish. Break up the bread into 1″ cubes and layer in pan. Scatter the raisins over the top. Pour tea/milk mixture over the bread; soak for 5 to 10 minutes. Gently press down on the bread to make sure it is covered by the mixture. Cover with foil and bake for 35-40 minutes. Remove foil and bake for additional 10 minutes to brown top. The pudding is ready when the custard is set, but still soft. Make the Vanilla Caramel Sauce while bread pudding is baking, by melting butter over medium heat in a saucepan. Add powdered sugar to the melted butter and whisk to blend. Add reserved Vanilla Caramel or Eggnogg'n infused milk to taste. Pour sauce over the baked bread pudding and allow to soak in 2-3 minutes. Serve warm.