Bigelow Likes A Green Monster's Taste in Tea!
Monday, 31 October 2016
It's Halloween and you know what that means — trick or treat yourself to a warm cup of tea! Speaking of ghouls and monsters and all things spooky, actor Boris Karloff, who famously played Frankenstein's monster as pictured, was known to be a tea enthusiast. Whether it was between takes on a movie set or sitting quietly at home, a cup of tea was never far out of his reach. Let's be honest, who wouldn't want a cup between all the takes and lines?! Perhaps Green Tea (or in this case maybe our Green Tea with Lemon) helped him get into his green-tinged character?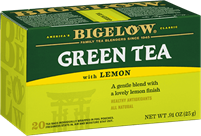 Which Bigelow Tea flavor do you sip during a long day? (And, yes, a Greenie Mar-TEA-ni can count today… after all, it's, technically, a holiday!)
Image by Insomnia Cured Here via Flickr.co