#TeaProudly With Bigelow Seasonal Teas This November
Wednesday, 2 November 2016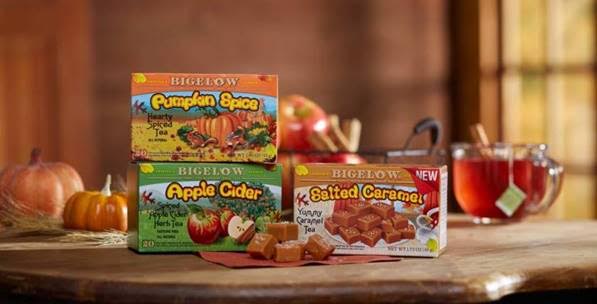 As we head into November's thankful season, we're beyond grateful for time with our family and friends! And all tea drinkers know the only way to make company and conversation even more enjoyable is over a cup of tea, Bigelow Tea actually!
This month, cozy up to one (or all three) of Bigelow's seasonal flavors.
If your favorite part of the season is pumpkin spice (and whose isn't?), look no further than a cup of Pumpkin Spice tea to revel in a flavorful calorie-free treat that makes teatime a cause for celebration. The hearty blend of black tea, delicate harvest spices and pumpkin flavors is filled with the rich, inviting flavors of freshly baked pumpkin pie!
And the goodness of seasonal flavors doesn't stop there.  Enjoy Apple Cider herbal tea where the taste of crisp and tangy apples mingles with sweet spices in an all natural, caffeine-freebrew. The medley of favorite seasonal flavors is a warming treat for cool autumn days! Or, endulge in a yummy cup of Salted Caramel. A little sweet, a little salty… A cup of this blend of black tea, luscious caramel and natural salt flavors, is a surefire way to warm up inside and out. Keep calm and caramel on, friends.
We couldn't be prouder of these autumn-inspired teas, rich in tantalizing spices and comforting flavors. We hope you'll take some time this fall to enrich visits with family and friends over a hot mug of Bigelow tea. #TeaProudly and enjoy!