Grab a Mug of Good-For-You Ingredients Found In NEW Line of Teas: Bigelow BENEFITS
Friday, 4 November 2016

✔All natural green and herbal teas with the goodness of wellness ingredients you know and trust
✔ Exceptional flavor
✔ Non-GMO
✔ Gluten free
✔ Blended & produced in the USA
Yes, all the above is true which is great news for tea lovers everywhere who want to make tea a part of a healthy lifestyle. Bigelow Tea is so proud (we call that #TeaProudly) to announce a new line of wellness teas called Bigelow BENEFITS that are meant to be enjoyed every day. Infused with enthusiasm for putting good things into our bodies that support clean eating habits, this new line of teas masterfully blends all natural green and herbal teas with the goodness of wellness ingredients. With a focus on always delivering a beautiful cup of tea, these inspired combinations of herbs and spice ingredients (all with names you know and trust!), are so imaginative and flavorful, you'll want to enjoy them morning, noon and night — and all the moments in between. Yum!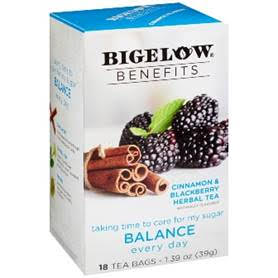 Balance your being with a warming cup of Benefits Cinnamon & Blackberry Herbal Tea, or keep well with a cup Lemon & Enchinacea.  We've got seven delicious flavors to enjoy throughout every day.
Radiant Beauty (Blueberry & Aloe Herbal Tea) – smooth and delicious fruity flavor with blueberry sweetness and subtle aloe notes
Stay Well (Lemon & Echinacea) – authentic Echinacea and crisp lemon flavor with a smooth, relaxing herbal finish
Balance (Cinnamon & Blackberry Herbal Tea) – sweet and spicy cinnamon top notes with a smooth balanced sweet and tart finish
Calm Stomach (Ginger & Peach) – a blend of spicy ginger, soothing peppermint finished and sweet peach
Sleep (Chamomile & Lavender Herbal Tea) – a calming, full-bodied floral lavender flavor with a sweet chamomile finish
Good Mood (Chocolate & Almond Herbal Tea) – complex blend of smooth almond, sweet chocolate flavors and blackberry
Refresh (Turmeric Chili Matcha Green Tea) – balanced green tea and matcha pair with earthy turmeric and a mild peppery kick
So let us know which tea you are going to try first or better yet which is your favorite from our new tea line, BENEFITS.  But don't worry, we won't make you choose if you love them all as much as we do.  Grab a mug and share with friends and family and let us know how you Tea Proudly at #TeaProudly!