Bigelow Has Breakfast In the (Tea!) Bag
Wednesday, 9 November 2016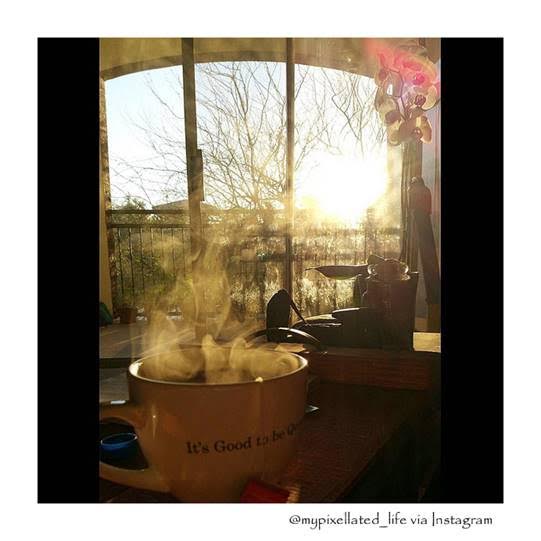 If you're not really the early-rising, breakfast-eating type, we at Bigelow Tea are here to convince you otherwise. Being proud tea drinkers makes us all about choosing healthy choices. And that includes grabbing an eye-opening morning meal that will make you want to be rid of the snooze button once and for all.
Chowing down on breakfast offers your body all sorts of amazing benefits. Did you know that people who eat breakfast generally weigh less? The theory is that eating breakfast makes you crave healthier food choices throughout the day since you aren't starving come lunchtime. One study from the Harvard School of Public Health even suggests that not eating breakfast can lead to weight gain, diabetes, as well as high cholesterol and blood pressure. Not convinced yet that breakfast is the best? How about if we told you that breakfast also fuels your brain — kind of important if you're heading to the office or school!
So nibble something yummy with that steaming mug of tea and start feeling amazing every morning.
We are crazy for these sweet yet filling, recipes. They're so good, yet so simple to whip up…. important when you're half asleep! We know you love your tea, but we promise you'll love it even more when it accompanies one of these mouthwatering breakfasts!  Happy breakfast eating tea lovers!
Spiced Cranberry Orange Muffins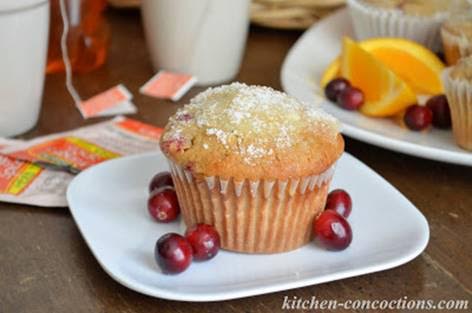 Ingredients
Muffin:
1 cup milk
2 cups (plus 1 tablespoon) unbleached all-purpose flour, divided
¼ cup (plus 2 tablespoons) granulated sugar, divided
3 ½ teaspoons baking powder
½ teaspoon salt
¾ teaspoon cinnamon
¼ teaspoon ground cloves
¼ teaspoon ground nutmeg
½ cup butter, softened
¼ cup brown sugar
1 egg
½ teaspoon vanilla
1 orange, juiced and zested
1 ½ cup chopped cranberries
Topping:
1/3 cup sugar
¼ cup butter, melted
1 orange, juiced and zested
Instructions
For muffins:
Preheat oven to 375 degrees. Grease muffin tins or line with paper muffin cups.
Place milk in a small sauce pan. Bring milk to a simmer and add tea bags, Remove from heat and set aside, allowing tea to steep in milk for at least 10-15 minutes.
Meanwhile, stir together 2 cups flour, ¼ cup granulated sugar, baking powder, salt and spices in a large bowl. Set aside.
Using an electric mixer, beat butter in large bowl until light and fluffy. Gradually add brown sugar, beating until blended. Beat in egg, vanilla, orange zest and juice. Remove tea bags from milk. Gradually mix dry ingredients and infused milk into the butter mixture, alternating between milk and dry ingredients. Continue mixing in milk and dry ingredients until combined.
In a small bowl, stir together chopped cranberries and remaining 1 tablespoon flour and 2 tablespoons sugar. Gently fold cranberries into prepared batter.
Using a scoop or spoon, fill greased or paper-lined muffin cups two-thirds full with muffin batter. Bake in preheated oven for 18-22 minutes or until a toothpick inserted into center muffin comes out clean and muffins begin to brown on top. Let muffins cool in muffin tins for 3-5 minutes then remove to a wire rack to cool completely.
For topping:
Place sugar in a small bowl. In a separate bowl, stir together melted butter, orange juice and zest. After muffins have cooled slightly in muffin tins, but while they are still slightly warm; dip the muffin tops in the butter/lemon juice and then dip into sugar.
Pumpkin Spice Waffles with Walnuts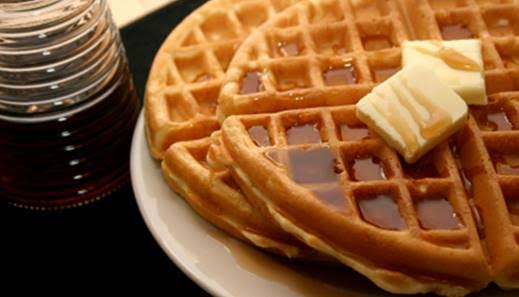 Ingredients
1 ½ cups hot water
1 ¾ cups all-purpose flour
1 tablespoon baking powder
1 tablespoon sugar
1 teaspoon cinnamon
½ teaspoon salt
2 eggs, lightly beaten
2 tablespoons vegetable or canola oil, plus more for brushing
½ cup walnuts, roughly chopped (optional)
Electric waffle maker (an 8 inch round waffle maker was used for this recipe)
Instructions
Sprinkle with cinnamon and chopped walnuts for additional flavor. Steep tea bags in hot water for 3-5 minutes. Remove bags, being sure to squeeze thoroughly. Set tea aside to cool. In a large bowl, whisk together flour, baking powder, sugar, cinnamon and salt. Add cooled tea, beaten eggs, and oil. Stir to combine. Gently fold in the walnuts (if desired). Preheat the waffle maker. When hot, lightly brush the surfaces with oil, to prevent sticking. Place about ⅔ cup of batter onto the hot waffle maker. Close top and cook for approximately 2 minutes (most waffle makers have an indicator light which will let you know when the waffle is ready), or until waffle is cooked through and surfaces are crisp. Remove to a platter. Repeat with remaining batter. Serve warm with butter and maple syrup.
Banana Pancakes with Salted Caramel Syrup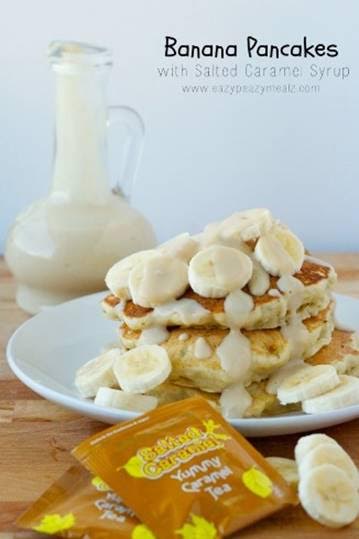 Ingredients
Salted Caramel Syrup with Bigelow Tea
Banana Pancakes
1⅓ cups all-purpose flour
1 Tbs granulated sugar
1 tsp baking powder
½ tsp baking soda
¼ tsp salt
½ cup milk
½ cup Bigelow Salted Caramel Tea (already steeped)
2 very ripe bananas, mashed (about a cup)
1 whole egg
1 TBS butter, melted
Banana slices to garnish
Instructions
In a medium sized bowl combine flour, sugar, baking soda, baking powder, and salt. In separate bowl, whisk milk, tea, mashed banana, egg, and melted butter together until smooth. Fold wet ingredients into dry ingredients and using a spatula, mix until just combined. Let batter sit while preparing syrup.
Syrup
Steep a mug of salted caramel tea, remove tea bag and put 1 and ⅓ cup in a heavy pot. Add 7 ounces of sweetened condensed milk and a tsp salt. Stir well. Turn on to medium heat, and stir to combine. In a separate bowl mix together cornstarch and water. Add mixture to syrup mix, and stir over heat until it thickens. Remove from heat.
Cooking pancakes
Heat griddle and spray with no stick spray, or use a cast iron skillet with cooking spray heated over medium heat. Spoon batter in, creating 4-5 inch pancakes. Once bubbles begin to form carefully flip pancakes and continue to cook on other side until lightly brown.  Adjust heat if necessary.
Notes
Syrup can be stored in fridge in airtight container for up to two weeks.
For a quick version use 1½ cup "Just add water" buttermilk pancake mix, ¾ cup Bigelow Salted Caramel Tea, and 2 bananas (mashed) to make pancakes, and top with syrup made according to directions.
So the question remains: What are you excited to make for breakfast first? Tell us below!