Bigelow Tea and Thanksgiving Dinner: Yes, Please!
Friday, 18 November 2016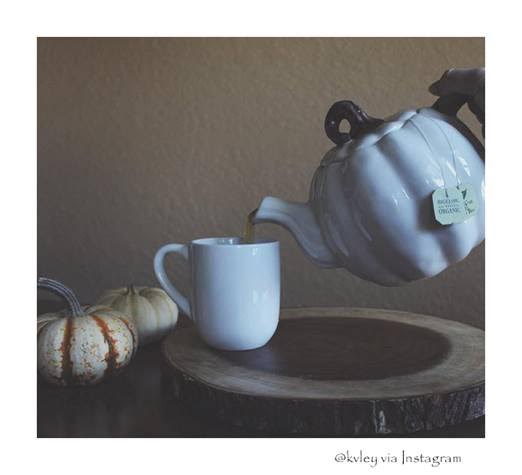 We're always thankful for Bigelow Tea in our mugs all year round. Tea truly transcends the seasons—a steaming cup soothes in cold weather, and a crisp, cool glass is the ultimate way to chill out on hot days. And when the holiday season kicks off, we love our brew even more, if that's even possible! That's because there are so many incredibly delicious things to cook that feature some of our favorite tea flavors. If you need ideas to make your Thanksgiving feast stand out this year, we've got you covered. Simply turn to tea! From a hot happy hour cocktail to a tantalizing turkey steeped in tea, you can plan every course around seasonal and traditional tea flavors.
We are here to be your one-stop shop for all Thanksgiving recipes with our complete tea-riffic Thanksgiving menu.  It doesn't get easier (and tastier) than cooking with us! Family+ Friends + Bigelow Tea = a perfect #TeaProudly Thanksgiving! And from our hearts to your mugs, we thank you for being part of our tea squad!
Warm right up on a cool fall day (and kick off Thanksgiving fun) with this festive refreshment!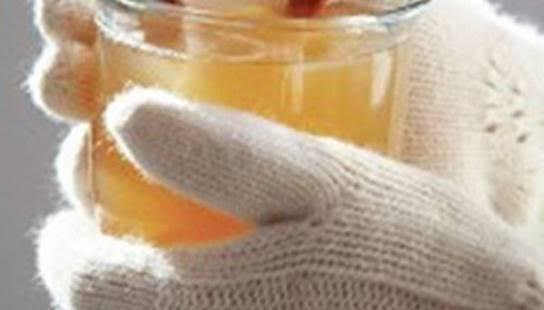 Ingredients
6 tea bags Bigelow Pumpkin Spice Tea*
6 cups (48-ounces) hot water
Spiced Butter:
¾ cup light brown sugar
½ cup butter, softened
1 teaspoon pumpkin pie spice
½ teaspoon vanilla extract
⅛ teaspoon salt
8 to 12-ounces (1 to 1 ½ cups) clear rum
Whipped cream, optional
Extra pumpkin pie spice, optional
*Variations: Try using  Bigelow Eggnogg'n Tea   or Bigelow Apple Cider Herb Tea
Instructions
In large glass bowl, place tea bags; add hot water. Brew for 4 minutes. Squeeze tea from bags then discard bags. Meanwhile, in small mixer bowl add all Spiced Butter ingredients; beat at medium high speed, scraping bowl occasionally, until light in color (1 minute). In 6 mugs or heat-proof glasses, place 2 tablespoons spiced butter, 2-ounces rum, and 6 ounces hot brewed tea. Mix until Spiced Butter melts. Garnish with whipped cream and a dusting of spice, if desired.
So delicious, you and your guests won't be able to stop popping them!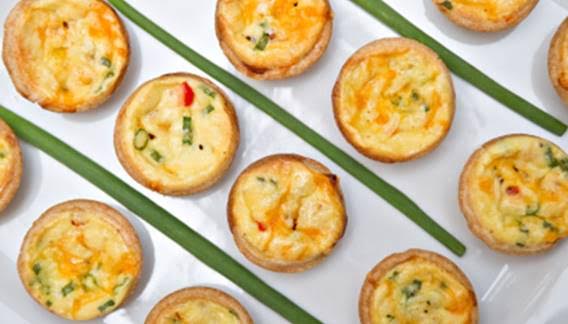 Ingredients
Tea Concentrate:
Vegetable Tea Mixture:
2 tablespoons extra virgin olive oil
¾ cup diced colored bell peppers
½ cup asparagus tips/ cut into small pieces, ½ – 1 inch
½ cup frozen peas
1 tablespoon minced shallots
¼ cup tea concentrate
Egg Mixture:
6 large eggs
½ cup half and half
½ teaspoon salt
¼ teaspoon freshly cracked pepper
4-ounces (½ of an 8-ounce) package cream cheese, slightly softened, cut into 18-20 pieces
Dill, optional garnish
Instructions
Place tea bags in a 2-cup glass measure. Add water. Steep tea for 10 minutes. Squeeze all liquid from tea bags into cup. Discard tea bags. (About ½ cup tea concentrate.) Heat oven to 350 F. Spray 2 (12-cup) muffin tins with baking spray (spray well or alternatively use paper liners); set aside. In 10-inch non-stick skillet place olive oil. Heat for 1 minute. Add peppers, asparagus, peas, and shallots. Cook over medium high heat, stirring occasionally, until slightly softened. Add ¼ cup tea concentrate to vegetable mixture. Continue cooking, stirring occasionally, until most of the tea is evaporated. Remove from heat; set aside. In large bowl stir together eggs, half and half, salt and pepper. Mix well. In bottom of each prepared mini muffin tin, place about 1 tablespoon vegetable mixture. Top with piece of cream cheese. Fill to top with egg mixture. Repeat with remaining ingredients. Bake for 15 to 18 minutes or until very lightly browned near edges. Remove from oven. Cool slightly. Garnish with dill if desired.
We are crazy for the spicy-sweet combo of lemon ginger with the classic Thanksgiving dish of sweet potatoes.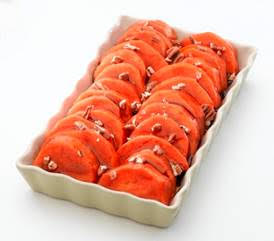 Ingredients
6 each sweet potato
1/4 cup oil
1 cup sugar
1 cup water
1/2 cup butter
1 cup pecan
Instructions
Cover potatoes with oil and roast till fork tender.  Combine sugar, water and tea and bring to a boil.
Add butter and pecans and bring to a boil.  When potatoes are done, peel and slice into 1/2 inch slices.
Shingle into pan and cover with tea mixture.  Bake at 350 till golden brown and bubbly.
Ta-da! The main attraction. Your guests will be bowled over!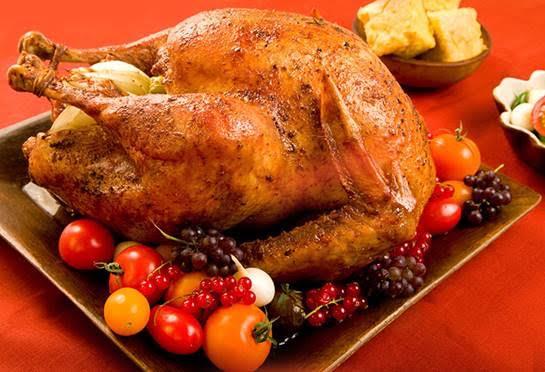 Ingredients
Glaze:
1 cup (250mL) boiling water
⅔ cup (160mL) brown sugar
2 tablespoons (30mL) butter
½ cup (125mL) cranberry juice
Turkey and Gravy:
1 10-15 pound (5-7.5g) turkey (thawed if previously frozen)
1 lemon, cut into four pieces
1 onion, peeled and cut into four pieces
1 cup (250mL) chicken stock
2 tablespoons (30mL) cornstarch
Salt and pepper to taste
*Variations: Try using Bigelow Orange and Spice Herbal Tea   
Instructions
Preheat the oven to 350º. Steep tea bags in 1 cup boiling water for 5 minutes. Squeeze excess liquid out of tea bags and discard. Reserve tea. Meanwhile, prepare a glaze by heating butter, brown sugar and cranberry juice into a saucepan over medium heat until butter is melted and sugar is dissolved. Add tea and reduce mixture by cooking over medium high heat for 15 minutes. Set aside. To prepare turkey, remove giblets and neck from turkey, rinse inside and out and pat dry. Place a cut lemon and a cut-up onion into the cavity and truss the turkey. Place in an open roasting pan breast side up. Brush skin with glaze. Bake turkey in preheated oven. Keep glaze warm on stove and continue basting with glaze every 20 minutes. Remove turkey from oven and let stand for at least 20 minutes before carving. Discard any unused glaze. To make gravy, dissolve cornstarch in chicken stock. Place roasting pan on burner over medium heat, scraping browned bits. Add stock whisking constantly until thickened; about 1 minute. Strain gravy and serve with turkey. As a nice alternative, use a 9-11 pound oven stuffer roaster chicken in place of the turkey. For best results, tie the chicken with string at the legs and the wings. For the glaze reduce the number of tea bags from 12 to 8.
You're never too full for pie – especially this one!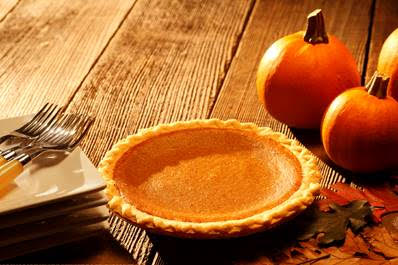 Ingredients
Instructions
Heat milk and add tea bags and let steep 15 to 20 minutes.  Meanwhile whisk egg, sugar and salt together.
Add pumpkin puree and blend till smooth.  Slowly stir in tea steeped milk and blend till smooth.
Pour into prepared pie shell and bake till center does not move when lightly shaken.
Pies may take 30 to 40 minutes, shallower squares may take 20 to 30 minutes.
If gobbling up this entire desert is wrong, we don't want to be right!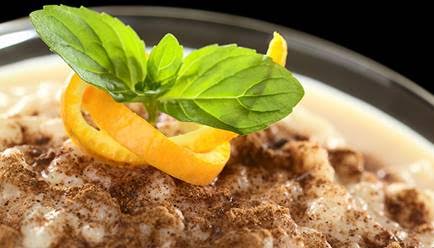 Ingredients
¾ cup raw long grain rice
5 eggs
¾ cup sugar
1-½ tsp vanilla
6 cups whole milk
Pinch of salt
Handful of raisins
Instructions
Pour 1-½ cups boiling water over 3 Bigelow Pumpkin Spice tea bags. Steep 5 minutes. Remove tea bags without squeezing. In a saucepan, return tea to boiling. Add rice and stir. Cook over high heat until tea returns to a low boil. Reduce heat to simmer, cover and cook rice according to package directions, approximately 20 minutes. In a large saucepan, scald 6 cups milk to which 8 Bigelow Pumpkin Spice tea bags have been added. Remove tea bags without squeezing. In a large bowl, beat eggs with fork. Add rice, sugar, salt, raising and vanilla. Gradually add milk and mix well. Pour mixture into 2-½ quart baking dish. Place into larger pan filled with 1 inch boiling water. Bake in 350 degree over for 60 minutes. Remove from oven. Remove skin from top layer of custard and discard. Stir gently to evenly distribute rice. Refrigerate. Serve chilled. Garnish with whipped cream.