Savor The Snap in Bigelow Tea Ginger Snappish Herbal Tea
Friday, 25 November 2016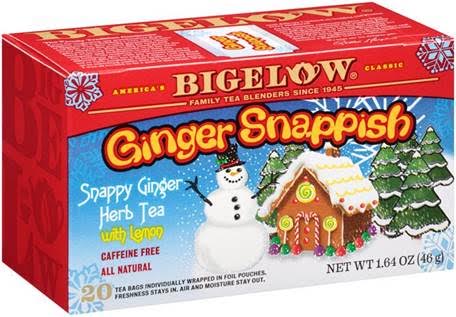 Here we go….winter is coming and we are ready for cozy evenings! Just picture it: a roaring fire, warm socks, maybe PJs or your favorite sweats, and a mug of Bigelow Tea Ginger Snappish® Lemon Herbal Tea. This "snappy" melt-in-your-mouth tea will remind you of gingersnap cookies baking in the oven. Savory, sweet and just a smidge spicy, Ginger Snappish herbal tea is made with quality ingredients like lemon peel, lemongrass, ginger, cinnamon and natural gingersnap. And it's perfect to drink right before bed since it's caffeine-free!
And what is ginger anyway? Well, it's a spice that can be found in many places—gingerbread cookies, pumpkin pies and served fresh with sushi (yum!). This amazing spice starts as a gnarled, knotted, bumpy root of the ginger plant which is the source of this wonderful spice. In Sanskrit, the root was known as srigavera, which translates to 'root shaped like a horn' – a fitting name for its appearance.
Ginger dates back over 3,000 years to Asia, and was used for medicinal treatments in India and China. From there it spread to Europe via trade, and during the Middle Ages, it was favored as a spice for its ability to disguise the taste of preserved meats. Henry VIII is said to have used a ginger concoction in hopes of building a resistance to the plague. Even today, ginger is used as a remedy for nausea and other stomach ailments.
Ginger coupled with real lemon peel gives Ginger Snappish a whole lot of zing. The lemon peel used is 100% grown in the USA from the same California supplier we have used for over 30 years (yeah, we are #TeaProudly about that fact!).
So if you're in the mood for a real treat made with fresh ingredients, brew up a mug…we bet you'll love it in a snap!