Butter Cookies, Vanilla Chai Cashew Brittle, and Orange Spice Madeleines, OH MY! Bigelow Tea In The Recipe Mix This Holiday Season!!
Wednesday, 30 November 2016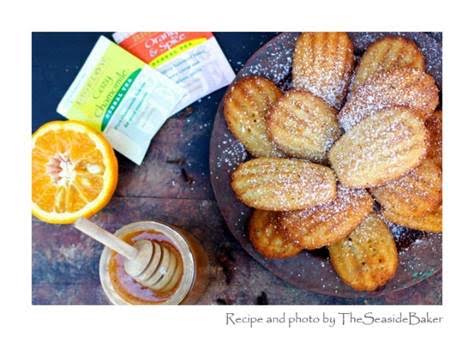 December Goals
Cozy Nights with Warm Blankets
Hot Tea
Yummy Food
People We Love
With so much to look forward to, it's no wonder we all love this time of year, right?  So how can we together make the holiday season super bright? Why not combine to-die-for dessert recipes that take some of our favorite Bigelow tea flavors served up in delicious new ways along with your elbow grease?  After all, we are here to help you celebrate big — direct from your own kitchen. Go ahead, make one or make them all. (Besides, calories don't count if it's homemade, right?!)
Ingredients
⅔ cups confectioners sugar
1 cup (2 sticks) unsalted butter, softened
2 cups all-purpose flour
¼ teaspoon salt
1 Bigelow Lemon Lift® Tea Bag
Instructions
Beat together the sugar and butter until smooth and creamy. Stir in flour and salt, blending until dough is formed. Divide dough in half; shape into disks and wrap in plastic wrap. Chill 30 minutes. Preheat oven to 350° F. Roll dough on lightly floured surface to ¼"" thick. Cut into shapes with cookie cutters, re-rolling scraps for additional cookies. Place cookie shapes on ungreased cookie sheets and bake 12-15 minutes, or until edges start to brown. Remove cookies to wire racks to cool. Drizzle with Lemon Lift® Glaze.
*Lemon Lift® Glaze: Pour 2 tablespoons boiling water over 1 Bigelow Lemon Lift® tea bag in a small bowl. Let steep 5 minutes. Remove tea bag, squeezing out liquid. Gradually stir in 1 to 1 ½ cups confectioners sugar until mixture is a glaze consistency, adding a few drops yellow food coloring, if desired.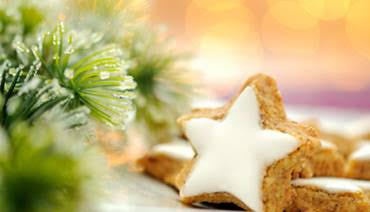 Ingredients
1 cup water
4 Bigelow Eggnogg'n Tea Bags
2 cups 10x confectioners sugar (powder sugar)
Instructions
Boil water. Place 4 tea bags in water and steep for 3-4 minutes. Remove tea bags and let liquid cool for ½ hour. Place sugar in mixing bowl. Add 2 tbsp. tea liquid and stir until completely mixed. Should be the consistency of honey. If not, gradually add more liquid in small amounts to reach desired consistency. Can be used as an icing for holiday cookies, scones, muffins, or ice cream.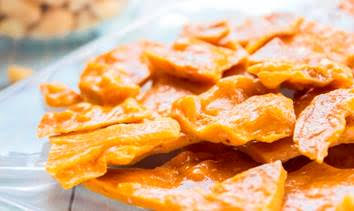 Ingredients
2 cups water
4 tea bags of Bigelow Vanilla Chai Tea
3 cups sugar
1 1/2 cups corn syrup
4 cups raw cashews
2 tablespoons unsalted butter
1 tablespoon baking soda
1 teaspoon vanilla extract
Instructions
Bring water to a boil and steep tea bags for ten minutes. Line two ½ sheet pans with silicon baking sheets and coat with butter, keep warm in oven (warm-200 degrees). Coat inside of stainless steel 4 quart sauce pan with whole butter and add tea, sugar and corn syrup and heat till sugar is dissolved.
Increase heat and cook till mixture reaches 260 degrees. Add nuts and butter and continue to cook till thermometer reaches 295 degrees. Stir constantly. Add baking soda and vanilla and stir as it foams up and pour immediately between the two sheet pans. Spread out evenly and thinly to the edges of the pans. Place on cooling racks and let cool completely. Remove from pans and break into pieces. Store in airtight container and store at room temperature.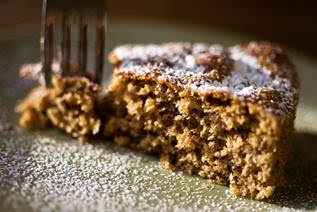 Ingredients
½ cup milk
5 Bigelow Constant Comment® Tea Bags
½ cup unsalted butter (1 stick)
1 cup sugar
3 eggs, room temperature
1-⅔ cups flour
2-½ teaspoons baking powder
Confectioners sugar
Instructions
Preheat oven to 350° F. Grease and flour a 9″ round cake pan. Combine milk and tea bags in a small saucepan. Heat over medium/low heat until bubbles form around the edge, stirring occasionally. (DO NOT BOIL.) Remove from heat and let cool (15-20 minutes); remove tea bags squeezing out liquid. Set aside. In large mixing bowl, cream butter and sugar until smooth. Add the eggs and whisk to blend. Add the cooled milk; continue to whisk until thoroughly combined. Add flour and baking powder; mix until a smooth batter forms. Pour batter into pan. Bake approximately 35 minutes, or until center of cake springs back when touched. Cool on wire rack before removing from pan. Let cool completely before serving. Dust top with confectioners sugar.
(pictured below title)
Ingredients
1/2 cup unsalted butter
2 Bigelow Orange Spice tea bags
2 tablespoons boiling water
4 eggs
2/3 cup granulated sugar
1 tablespoon orange zest
1 cup all-purpose flour
1/4 teaspoon salt
1/4 teaspoon baking powder
2 tablespoons powdered sugar
1/4 teaspoon cinnamon
Instructions
Preheat oven to 350 degrees. Butter and flour Madeleine pan or spray with nonstick cooking spray. In a microwave safe bowl, melt butter.  Place tea bags in 2 tablespoons boiling water and steep for 5 minutes then pour into melted butter. Meanwhile, beat eggs and sugar for 5 minutes on medium high speed. Once batter is pale and have doubled in volume, gently fold in orange zest. In a separate bowl, sift together flour, salt, and baking powder. Add sifted flour in three parts, gently folding flour into egg batter after each addition. Slowly pour butter into batter while folding it in. Spoon about 1 and 1/2 tablespoons of batter into each shell. Bake Madeleines for 8 to 10 minutes. Cool completely then sprinkle with powdered sugar and cinnamon.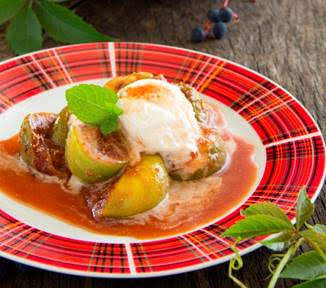 Ingredients
1 pint half-and-half
1 cup sugar
4 Bigelow Eggnogg'n® Tea Bags
2 vanilla beans, split lengthwise and scraped, seeds reserved, divided
12 egg yolks
18 figs
6 tablespoons butter, melted
½ cup sugar
Instructions
In a medium saucepan over medium-high heat, combine the half-and-half, sugar, tea bags, and reserved seeds from 1 vanilla bean. Cook until the mixture just begins to boil; remove from heat, and set aside. In a medium bowl, whisk the egg yolks until smooth. Using a ladle, pour 1 cup of the hot half-and-half mixture in a slow, steady stream into the beaten egg yolks, whisking constantly. Remove the tea bags from the half-and-half, and then add the egg-yolk mixture to the remaining half-and-half in the saucepan. Cook over medium-high heat, stirring constantly, until thick enough to coat the back of a wooden spoon, or until the custard reaches 180º on an instant-read thermometer. Strain the custard through a fine-mesh sieve into a stainless-steel bowl set in an ice bath. Stir until the custard is very cold. Freeze the custard in an ice-cream maker according to the manufacturer's instructions. Preheat oven to 350º. Cut each fig in half, and place each half, cut side up, in a well of a muffin pan. In a small bowl, mix together the butter and reserved seeds from remaining vanilla bean. Brush the top of each fig with the butter mixture, and bake for 6 minutes. Remove figs from oven, and evenly sprinkle the cut sides of the figs with the sugar. With a culinary torch, hold the flame about 2 inches above the surface of the figs. Direct the flame in an even back-and-forth motion so that the sugar melts and browns. Serve two prepared fig halves with a scoop of ice cream.