Another Reason To Be #TeaProudly…Learning The ABC's Of Tea Leaves With Bigelow Tea
Monday, 12 December 2016
We all know that drinking tea soothes souls and invites conversations but hey, what exactly is in that mug and how does tea become the most perfect beverage in the world? Take a break, sit back and check out this awesome video where third generation president and CEO Cindi Bigelow (of Bigelow Tea of course) gives us the scoop on tea leaves and more. Here is a brief rundown that sums it all up:
The three types of tea all come from the leaf bud and leaves of the Camellia Sinesis plant. You've got your green,  your black and your Oolong. And It's all about the air…exposure for different amounts of time is what gives you the various tea types.
Green tea is unfermented, which means it's not exposed to air. It's steamed or pan fried and then chopped up, leaving a vibrant green color and one-of-a-kind taste.
Black tea is chopped up so that all the juice in the leaves and leaf bud's vein is exposed to air; it ferments for about 6-8 hours, and then the coppery black colored tea is dried and chopped again.
Oolong tea is semi-fermented. The leaves and bud are chopped and exposed to air for around 3 hours, then dried or chopped.
These types of teas all have different caffeine contents, because as they are exposed to air, the caffeine comes out. But where do the various types stack up, caffeine-wise? Here's a cheat sheet: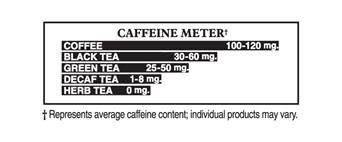 Drink your veggies in a tea cup? We'll take it! Tea is like drinking the brew of a vegetable, as Cindi says. Tea is high in antioxidants and a good choice for a healthier lifestyle, according to the tons of studies done on the drink!
As you can see, there's always more to discover about the amazingness of tea which is all part of living the #TeaProudly lifestyle. Tell us here, via social (using #TeaProudly) or join us on www.teaproudly.com, and let us know what you find most interesting about this beautiful beverage?