Cozy Up To A Cup Of Bigelow During National Hot Tea Month 
Monday, 2 January 2017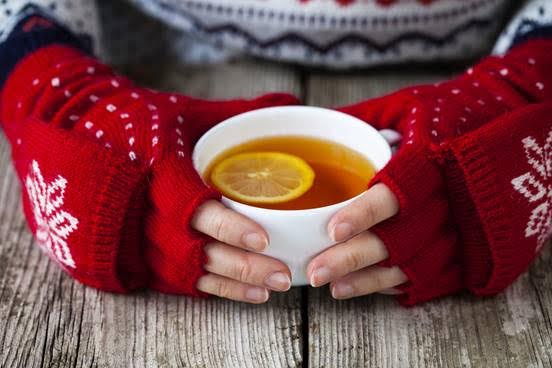 The colder it gets, the more we want to bundle up with a mug of tea! And, hey, what better month to do that than January which is National Hot Tea Month, right?! If you're wondering how best to rock this tea party season, sharing a cup of Bigelow Tea with your favorite peeps is a great way to begin. National Hot Tea Month is also a great excuse to sip more tea and enjoy it over good conversation. And if you needed one more reason to celebrate tea this January (and every other month of the year), we'll do one better—we'll give you 10!
Reasons to Celebrate Tea
Tea tastes amazing. And we promise that every cup of Bigelow Tea you drink will be made with only the finest ingredients.
Research suggests that when it comes to tea, the benefits go far beyond refreshment. For example, the theanine in tea is a natural support for mood, sleep and mental focus!
A cup of tea is guilt-free! Tea can be a healthy and flavorful part of any diet—it's zero calories and most of our flavors are also gluten-free!
Tea is a common thread around the world. In the U.S. alone, millions of us share a love for tea. Historically, while tea holds a special place in many cultures near and far, today we consider tea drinking a proud American tradition!
Can we say tea party? No longer the exclusive property of ladies in gloves and big hats, tea parties can be fun and even cool. Are you ready to get your tea party on?
Hydration, hydration, hydration. Tea makes it easy.
Tea is sooo versatile. Some teas get you going. Some teas keep you going. And some teas are much more effective than counting sheep.
Sip by sip, a cup of tea can be incredibly relaxing.
Tea is the perfect conversation-starter. Ever say to someone, "Let me put the kettle on and let's talk"? Sharing a cup of tea is a wonderful—and easy—way to get something off your chest, catch up or simply talk about your day.
Tea is warm and cozy—it soothes souls, connects people, invites conversations and makes memories. In life, it doesn't get much better than that.
Make tea part of your month and when you do, tell us about it! Join our #TeaProudly community, a welcoming place that keeps all tea lovers connected. Join us at www.teaproudly.com and tag your special moments using #TeaProudly.
Be social. Share. Sip. Enjoy.