Forever And Always, "Constant Comment" Bigelow Tea
Friday, 20 January 2017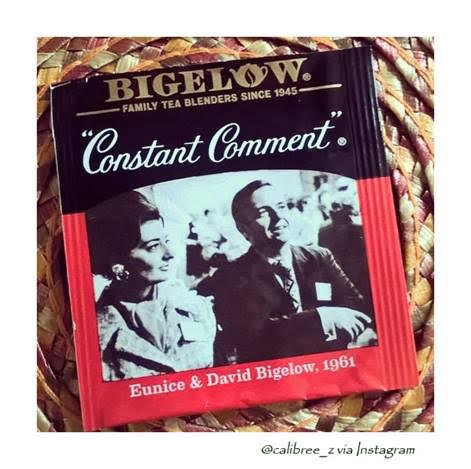 Tea is second only to water as the most consumed beverage in the world which doesn't surprise any avid tea drinker given the importance the beverage holds in many cultures, whether it's a hearty daily tradition, a treat for a special ceremony, or a therapeutic blend to soothe and comfort. On any given day, over 158 million Americans alone are drinking tea and we are proud to be a part of this thriving community and honored that as a third generation family business, Bigelow Tea continues to be part of the tea lovers' community decades after the creation of the one and only "Constant Comment"®. Today, we offer over 130 flavors that will please any palate, but for National Hot Tea Month, what better time to get back to our roots by honoring this remarkable and historic tea that's still a source of "Constant Comments" among all tea fans!
In case you aren't familiar, here is the story of how Bigleow Tea got started: it all began in 1945 when Ruth Campbell Bigelow started on her mission to create a better cup of tea than what was commonly offered at the time. She was inspired by an early Colonial recipe that used orange rind and sweet spices. After tireless hours spent creating her own special blend, she shared it with friends who couldn't stop commenting, and hence the name "Constant Comment" tea. Ruth knew she was on to something with her blend and took "Constant Comment"®   to every store she could. One shopkeeper told Ruth that he had been opening the container for customers to take a whiff of the incredible aroma, and it was flying off the shelves! Ruth took this idea one step further and set up a jar of "Constant Comment"® in each case of tea, with the directions to "open and whiff."  Shops across the country placed this little jar by their cash registers and sales grew.  Jump ahead to today, over 70 years later, and here we are, a tea company beyond Ruth's wildest dreams!
To this day, "Constant Comment"® is the same wonderful recipe that third generation president and CEO Cindi Bigelow's grandmother, Ruth Campbell Bigelow, first created. It has stood the test of time and we know it will continue to fill cups and hearts for many more decades to come. Amazing when you think how this special product started on the shelves of local shops, and today it's still a source of constant comments all over the Web… and the world! If you're a fan of "Constant Comment" tea, Bigelow Tea or tea overall, you'll love hearing Cindi Bigelow herself tell this story of this original creation while sharing more about her personal (and professional) love of tea!
Tell us, what was the first "comment" you had when you tried "Constant Comment" for the very first time?  Tag anywhere online with #TeaProudly so we can share in the fun.