When Life Gives You Bigelow Tea I Love Lemon, Smile!
Friday, 27 January 2017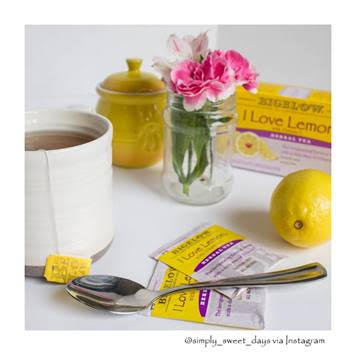 Pucker up! Lemons are tart, tangy, citrusy and sour, and they add an abundance of flavor to life. It's no wonder that Bigelow Tea has real lemon peel in a number of flavors. One in particular is even named for how much people enjoy the fruit—I Love Lemon (because who doesn't?).
Throughout history, lemons have been used for many purposes—as a remedy for epilepsy, a toothpaste, invisible ink and even a bleaching agent. Though the lemon's origins are said to have come from the base of the Himalayan Mountains, the fruit is now cultivated in tropical and temperate climates around the world, with California leading production in the United States.
It's probably no surprise that lemons provide a lot of vitamin C, but they are also a good source of iron, fiber, vitamin B6, calcium, and copper, as well as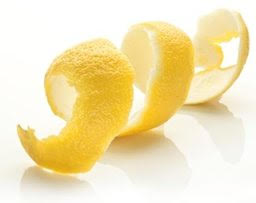 folate and potassium. Research has suggested that lemons may help with DNA cell protection, immune system regulation and inflammation relief.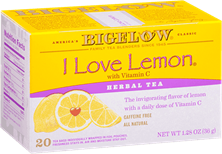 As a third generation family-owned company, Bigelow Tea is proud to have partnered with a family-owned lemon peel supplier for the last 30 years. As an essential ingredient in 23 of Bigelow Tea's blends, lemon peel requires the perfect blend of sweetness and tartness to deliver the flavor profile the Bigelow family requires. Hailing from Central Valley California, the lemons used are 100% USA-grown and meet strict USDA, FDA, and California standards. The Bigelow family's supplier has perfected its state-of-the-art processes to harvest, juice, and zest some of the world's best lemons since opening their groves in 1947.
And those lemons make the perfect ingredient for the delicious I Love Lemon herbal tea. Made with lemongrass, lemon peel and lemon verbena, this flavor is the go-to for lemon lovers. Kimberly from Walden loves drinking it hot with honey, and enjoys it as part of her morning ritual. It's one more way the sour lemon can make your day a little sweeter!