4 Ways to Sip Summer—Right Now!
Friday, 12 May 2017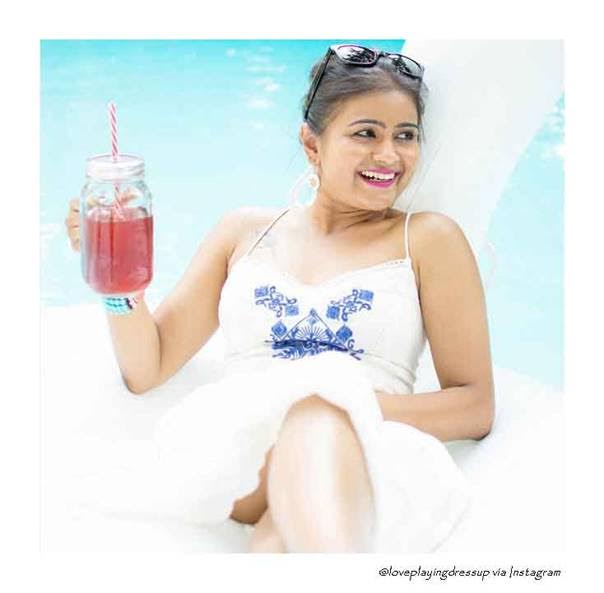 Is it summer yet?? Inquiring minds want to know, because with spring in full swing, beach weather just can't come fast enough! Lounging with an icy cold drink is top of mind big time, as are all the bountiful fruity flavors that taste so fresh on a hot day. So, who made the rule you have to wait until the official days of summer to lounge by the pool with a thirst-quenching glass of something delicious? Get ready to enjoy a cool one now (we won't tell if you just drink it inside while sitting on the sofa!) with these amazing recipes from Bigelow Tea. After all, it's certainly summer weather…someplace in the world!)
(Still not convinced? As WillMay1976 says on Twitter, it's 5pm somewhere! So don't wait any longer to treat yourself!)
Strawberry Green Tea
If you need any more excuses to start summer early, May is Strawberry Month. Think of it this way: you're just celebrating one of your favorite early summer fruits!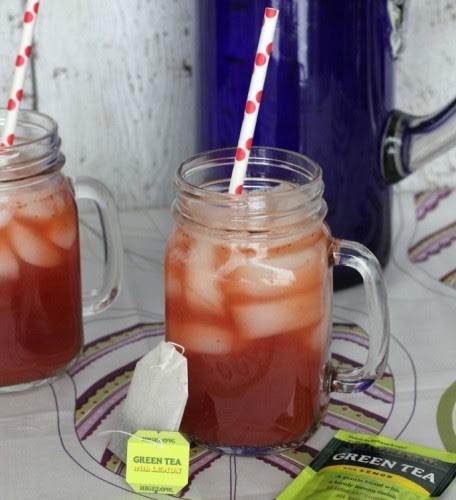 Ingredients
1 Pint Strawberries, washed and hulled
1 Cup Sugar (to taste)
5 Cups Water
5 Bigelow Green Tea with Lemon tea bags
Instructions
Place hulled strawberries in blender and puree until smooth.  Pour in medium saucepan and add sugar.  Bring to boil.  Remove from heat and set aside to cool.  Bring 5 cups cold water to a boil. Pour over 5 tea bags and let brew for 5 minutes.
Mix strawberry mixture and green tea together and chill.
Serve chilled over ice.
The classic summer cocktail gets a mmm-mmm good makeover with the addition of a fruity tea! (it's also amazing with any number of delicious flavors, such as Wild Blueberry with Acai Herbal Tea or Red Raspberry™ Herbal Tea.)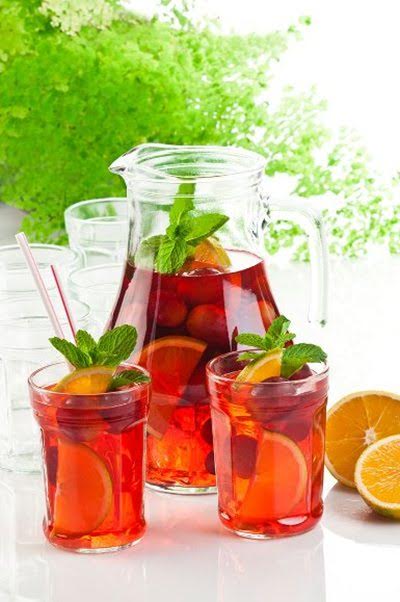 Ingredients
3 cups (750mL) boiling water
18 Bigelow Pomegranate Pizzazz® Herbal Tea Bags*
4 tablespoons (90mL) sugar
3 cups (750mL) fresh fruit including mixed citrus, strawberries, peaches, melons, mangos, and pineapples cut into bite sized pieces
1-750mL bottle of Sauvignon Blanc, chilled
Instructions
Pour boiling water over tea bags. Let steep for 5 minutes. Remove tea bags, add sugar, and stir to dissolve. Chill the tea concentrate in refrigerator for at least 30-45 minutes. When ready to serve, combine chilled tea, fruit and wine in a pitcher. To serve, pour Sangria into tall glasses filled with ice. Spoon fruit into glasses to garnish.
Refresh your spirit and get in the mood for summer with this incredibly yummy concoction that gets even better with age (don't we all?) as it absorbs the flavors.
Ingredients
4 cups boiling water
2 bags Bigelow Iced Tea & Lemonade with Pomegranate
3 tablespoons sugar
3 cups fresh fruit including oranges, lemons, peaches and apples (Red, Fuji or both) cut into bite sized pieces
½ cup Brandy
½ -1 liter of any flavor sparkling seltzer water
1-750mL bottle of Merlot
Instructions
Place tea bags in a 4-cup glass measure. Add boiling water. Let steep for 10 minutes. Squeeze and remove tea bags, add sugar, and stir to dissolve. Add brandy and fruit to tea concentrate. Refrigerate 1 hour (or up to one day for a stronger flavor). When ready to serve, combine chilled mixture with wine and sparkling seltzer water. Pour into ice filled pitcher. Serve and enjoy!
So fruity and refreshing, yet so simple to make. If only everything in life could be this easy!
Ingredients
1 quart boiling water
2 Bigelow Pomegranate Pizzazz Herbal Tea Bags
1 Bigelow Wild Blueberry with Acai Herbal Tea Bag
Instructions
Bring 1 quart of water to a boil, add 2 Pomegranate Pizzazz and 1 Wild Blueberry with Acai Herbal tea bags and steep for 10 minutes. Pour into pitcher and refrigerate until chilled. Serve in a tall glass with ice. Sweeten to taste, if so desired.
So, how are you looking forward to celebrating summer? Tell us and tag #TeaProudly!